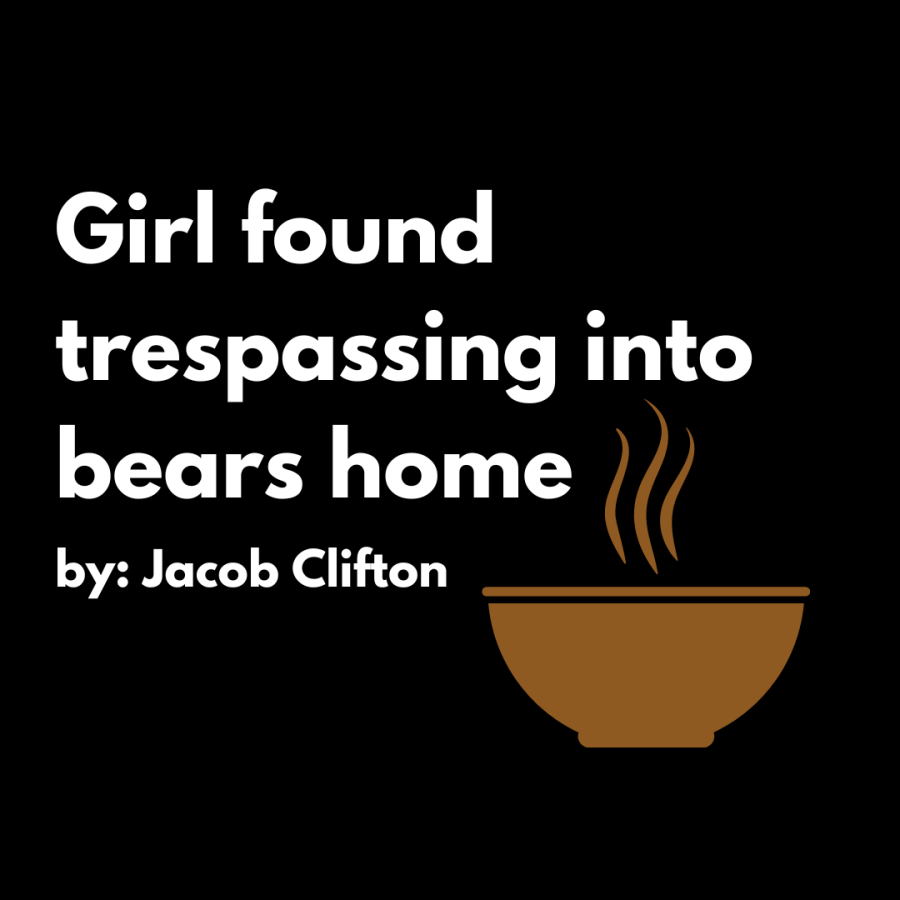 Photo provided by: Avery Ranum
Girl found trespassing into bears home
Earlier this morning a small woman trespassed into the household of three bears, caused damage and was discovered to have used various household materials, and they intend on pressing charges against the mysterious girl for her crimes. After she trespassed, the girl was described by the bears as fleeing the scene, going deep into the forest, the fairy tale police arrived at the scene soon after. 
"I'm very sad to see that somebody would come along and do this," owner of the home, Papa Bear, said. "The stuff they ate and destroyed are replaceable, but that doesn't take away from the fears this will leave for my boy."
The fairy tale police searched the scene as soon as they could for any clues into the mystery girl's identity. In a pile of broken wood from the chair, there were strands
of long blonde hair found, and in Baby Bear's bed, little pieces of blue fabric were uncovered.
Also in the house was a blue bow left on the shelf. Upon seeing this, the fairy tale police realized that they were already familiar with this girl.
"We have had multiple calls about this girl already," sheriff Damion Lee said. "She always seems to get away just in time."
The fairy tale police and Bear family led a search party to look for the girl. Papa Bear noticed a dark cavern under a local oak tree. Going through the cavern, it was much bigger than they all had anticipated, finding many reported missing items from other households. The girl was identified as Goldilocks, a local thief, and well-known trespasser. After a failed escape, Goldilocks was put in handcuffs.
"I only destroyed all those items because I was jealous that the Bear family had it and I didn't," Goldilocks said.
With help from the Bear family, the police succeeded in catching the town trespasser and thief.
"I'm glad that she won't be able to hurt any other families," Papa Bear said.