Lynn Moran
Hang on for a minute...we're trying to find some more stories you might like.
Joyful, creative, and "thebomb.com" are all words that students would use to describe interior design teacher Lynn Moran. She has a passion for helping her students and pushing them to succeed while also teaching them a few design skills along the way.
One of the main reasons Moran became a teacher were the students. She wanted to be able to make an impact on them and hopefully change their lives for the better. Teaching allows her to make an impact on the students as well as prepare them for the future. In her class she teaches students to do a series of things such as showing them how to write a resume or the basics of arranging furniture.
"Getting them prepared for life after school is a big motivation," Moran said. "Being that we're in an industry related course they have different means of getting college credit and getting industry certified in my class. They also form connections with people who work in the industry."
Apart from interior design allowing Moran to prepare students for the real world, it allows her to see their creative side. She can share her love for art with them and see all the creations that her students come up with, from room design to furniture arrangement.
"It is a design class so I feel like it's the best of both worlds," Moran said. "It does have that side of art to where I get to see their creative abilities. They each have their own styles which I can help them render and help show [the students] a way to present their own concepts."
Students enjoy Moran's teaching style and are always bustling around the room. Just by visiting her class many can tell that students have fun and truly enjoy the projects that they work on.
"She really finds stuff for us to do all the time," junior Ofree Basher said. "Whether it's for homecoming or just projects in class. She's very interactive and she doesn't like us sitting in desks all the time. She wants to see us up and doing stuff or helping her."
This is Moran's second year teaching at Brantley and she is more involved than ever. She is the currently the sophomore class sponsor, assistant coach of track and field, co-coaching competitive cheer and involved with junior varsity cheerleading. She was also last year's rookie teacher of the year. Her school spirit is definitely at an all-time high and her love for the school really shines through.
"There is really a sense of tradition that I like," Moran said. "Everybody was very welcoming my first year. Everyone seems to work together nicely and it feels like I am part of a community."

About the Contributor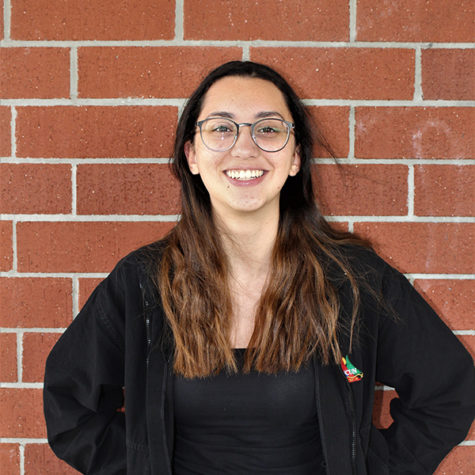 Sabrina Bonadio, Entertainment and Graphic Design Editor
Sabrina Bonadio is a junior and the Graphic Design and Entertainment Editor on the Brantley Banner staff. She loves writing and designing and hopes to further her skills in both as well as form new relationships with other students around the school. In her spare time she enjoys playing around with Photoshop, watching The Office,...