Inktober
Hang on for a minute...we're trying to find some more stories you might like.
Inktober, a sweeping trend on social media, invites artists of different crafts to follow a prompt list that designates one word for every day of the month. Participants then create pictures that represent these words  utilizing any form of ink media, from the basic ballpoint pen one could find lost at the bottom of any student's backpack to India Inks that consist of loose ink which is used almost like a watercolor. The point of inktober is that anyone can do it, anyone can participate, they just have to pick up a pen and try. In fact The initiative has been practiced by several students and teachers here at Lake Brantley every October.
Created by Jake Parker in 2009 as a personal initiative toward creative self improvement, Inktober has attracted thousands of followers who now participate annually. A goal within the initial approach was for participants to upload their creations online daily, allowing participants to draw ideas from one another and motivating artists to stay on track with the rigorous challenge. This is a worldwide phenomenon that anyone can participate in by using #Inktober on social media platforms.
"I like to post them on my Instagram, it's almost like a requirement of the challenge for some people," senior Camille Gros said. "Every year I try to get as many people as possible to join. It's a fun activity, and I love seeing other artists experiment. We don't really compare pictures, but I do think we use each other as inspiration."  

The mass following of Inktober prompted other variations of the trend to rise, such as Goretober and Witchtober. While these do not have an official prompt list, participiants of Goretober and Witchtober are still required to follow a prompt list that is generally more Halloween based. Common words included in these prompts are bruises, acid, and knives. This branch of the trend enables participants to explore the darker and grotesque part of Halloween.
"There are different variations of Inktober, and this year, along with the official prompt, I'm also doing Goretober," junior August Esborn-Witt said. "Goretober can be a lot more gruesome and Halloween-oriented."
Both students and teachers understand the struggle of attempting to complete a daily piece, which is a major aspect of movements like Inktober. The goal of Inktober and its variations is to provide a fun and creative way to discipline and develop the art skills of those who participate. After all inking can be considered one of the hardest artistic outlets to accomplish. Once the pen glides on the paper there is no undoing that stroke, it is now an integral part of the piece, whether by changing the direction of the piece or by allowing artists to learn how to cover up thief mistakes.As a result Parker has downloaded numerous videos on how to ink successfully, yet again as a way to ensure that anyone and everyone can participate.
"I've already seen growth in my students following this type of trend," Advanced Placement art teacher Kathy Farmer said. "It encourages students to think outside the box and think creatively and also use ink. Since it is a focus on ink, you could do any number of ink medias: washes with India ink, you could could do pens, there's a very wide range."

About the Contributor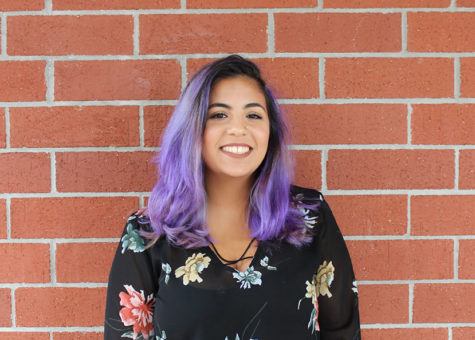 Miryam Elshaer, Editor in Chief
Miryam Elshaer is a senior and is the Editor-in-Chief of the Brantley Banner. She has felt at home ever since discovering the journalism program at Lake Brantley during her freshman year. She enjoys to read, loves anything that has to do with history and English. Miryam is the president of National English Honor Society, Science National Honor Society, and Quill and Scroll Honor Society. She is also the historian of Mu Alpha Theta and a member of the school's photography program. In her free time, she volunteers at Forest City Elementary School, and loves working and inspiring the younger students. Miryam is a vegetarian and enjoys going to concerts, art festivals and journaling in her free time.