Carlton Kilpatrick wins FMEA secondary teacher of the year
Hang on for a minute...we're trying to find some more stories you might like.
For more than 30 years, chorus director Carlton Kilpatrick has been either singing with choirs or teaching them. Originally from Leesburg, Kilpatrick started his music career in church choirs as a kid and has continued to sing since. Kilpatrick graduated from Leesburg High School then earned a Bachelor's degree in Music Education from the University of Florida in 2001. He later went on to receive his Master's Degree in Choral Conducting from Florida State University in 2005. Through his hard work he then earned the FMEA Secondary Teacher Award.
Kilpatrick has been teaching music for 15 years. Since 2005, he has worked with the different choir classes. Before working at Lake Brantley, Kilpatrick was the choir director at Columbia High School in Lake City Fl. from 2001-2003. He taught chorus at all levels and participated in District and State Music Performance Assessments (MPA) with choirs, ensembles, special category ensembles, and vocal solos. Kilpatrick now teaches six different classes ranging from beginning chorus all the way to the auditioning choruses.
"I have been with Kilpatrick for all four years of high school," senior Tiffany Spates said. "He has taught me everything that I know from, how to read and count music, to how much of a family we all are."
On top of teaching, Kilpatrick is serving his fifth year of his six year term as the Florida Vocal Association president. In his current year as president, he is working to improve smaller schools by finding ways to include musical theatre and vocal jazz styles in solo events, in addition to aligning educational practice with MPA sight reading music procedures and practices.
"It is really cool how my chorus teacher holds many awards because it allows to me to know that he is knowledgeable," freshman Hayli Sapp said. "I like knowing that what I am going to learn from him is going to be reliable and it gives me reassurance."
Kilpatrick is also the winner of the Florida Secondary Music Educator of the Year Award (FMEA). The award oversees all of the assessments for all levels of music, organizes and runs the yearly professional development conference with the All-State ensembles, and works to further the idea that music education is an essential subject to which all students should have access.  Kilpatrick has won several other awards such as McDonald's Featured Teacher, Emerging Leader and Student of the Year at the University of Florida in 2001.
"It is a great honor to be recognized by my colleagues with this award," Kilpatrick said. "I will continue to strive to do my best every day and to give my students opportunities to make music and learn essential life skills through music."

About the Writer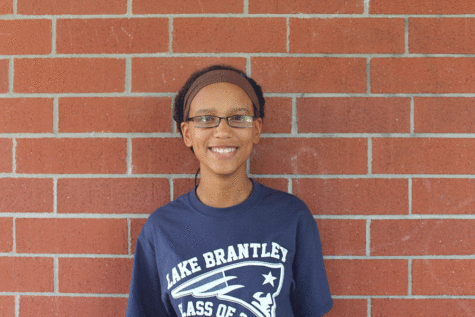 Jo'Tazshya Stephens, Staff Reporter
Jo'Tazshya Stephens is a junior and a second year staff reporter for the Brantley Banner. Through journalism, Jo'Tazshya discovered her love for writing...