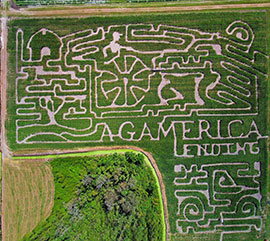 Photo provided by: Long and Scott Farms
Long and Scott Farms Review
Long and Scott Farms, located in Zellwood, Florida, has hosted a differently themed fall festival every year since 2003. This year's corn maze pattern was a partnership between the farm and Advocating Agriculture.
The main attraction at the fall festival is the corn maze. The maze is seven acres and has five different sections, each with different colors. The maze was challenging, with multiple entrances and exits at each fork in the trail that lead to dead ends or take participants to the same spot they were just in.
The fall festival was extremely kid friendly. There was a playground, bounce pad, a zip line, and a child maze- all in addition to the adult maze. If children decide to explore the adult maze, there are different check points throughout the maze where kids can fill in vocabulary words related to the farm or picture rub stations of different animals (i.e. a beehive) where kids can set a piece of paper over a raised image and create different images..
While the festival was very kid friendly, I found that there were very few teenage-directed activities. The zip line had a height and weight limit, which was disappointing. Honestly, as a teenager, I felt too old to go on the bounce pad or the playground. The only thing I felt called towards was the adult maze.
Aside from the attractions, the food at the festival was very good. There was a churro truck that served the sweet, Spanish treat. The churros were delicious and there was the option of filling them with different types of creams, such as Bavarian Cream, Dulce de Leche, Nutella, cream cheese, and Guava. Tom and Cathy's restaurant was also located at the site which had an outdoor pavilion that served fresh burgers, fries, and pulled pork.
Overall, this festival was a lot of fun and I strongly recommend this to anyone who enjoys good, old fashioned corn mazes. Due to the kid friendly nature, I strongly recommend this to families with young children. I had a great experience and would definitely go back again.