A Petrified Forest Review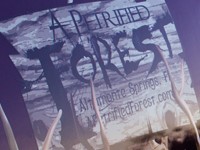 Hang on for a minute...we're trying to find some more stories you might like.
Halloween is the time when people dress up and go door to door to collect different types of candy from various houses. Every Halloween season there are a lot of haunted houses, mazes, and trails that people can explore. One specific haunted trail that people attend is Petrified Forest.
The Petrified Forest has two different haunted trails that change every Halloween season. The theme this year was 'The Hunted' and 'The Family Swamp'. 'The Hunted' is an interactive trail that is based off the aftermath of the 2031 contamination, while 'The Family Swamp' is about a family whose swamp has been contaminated for years.
"My experience while at the Petrified Forest was scary," junior McKenzie Gilbert said. "I was scared of tripping and a scare actor came up behind me and sniffed my hair which made me want to cry a little bit. Even though I was scared my favorite part was seeing my friend who is a scare actor on the trail."
The Petrified Forest contains many actors and actresses that help with the scare part of the trail. However, there are other employees that help run the trial. Some Lake Brantley high school students work or volunteer at Petrified Forest each year.
"My favorite part is seeing the whole thing come together at the beginning of every night and seeing people reactions as they come out of the trail," senior Jenna Kabler said. "I found out about the job through my brother who had worked there previously. My job title is front of house and I specifically work the Fast Pass entrance."
The Petrified Forest actors and actresses do not intentionally mean to touch you while you walk on the trail. However, on the 'Total Eclipse' nights, actors and actresses are allowed to touch you. For these nights you do have to sign a waiver and those under the age of 18 must be accompanied by an adult.
"My experience while at Petrified Forest was very intense," junior Natalia Negron said. "The trail stimulated my senses and I would definitely go back next year."