Grad Bash attendees fill five buses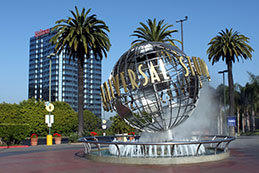 Hang on for a minute...we're trying to find some more stories you might like.
Grad Bash, an annual senior tradition where Universal Studios is temporarily open for only high school students, took a turn when more seniors signed up than originally planned for. In past years, all attendees fit in a total of three buses, but this year they are anticipated to fill five. The unexpected number of sign-ups led to a waiting list and accommodations so that everyone who signs up can participate.
"You have to provide transportation, how you're going to get there," senior class sponsor Angela Cecere said. "Students and chaperones have to ride the bus, they cannot drive themselves. I'm not exactly sure why so many people are interested this year but I can say the Class of 2019 is an exceptional group of students that have been involved their entire four years of school, had lots of school spirit, and a pleasure to work with."
So far, students have nearly filled five buses, with the exception of three spots, which are likely to fill up before the event on April 6. There are 230 students and 20 chaperones signed up to participate, with an additional 10 students from the drama department with two chaperones. Since their performance of Hairspray takes place on the same day as Grad Bash, they will meet the rest of their class at Universal after the show.
"I actually hope less people go next year than this year," junior Molly Kucharski said. "The more people go the more crowded the lines will be, ergo less rides for my friends and I to experience. Plus too many people is overwhelming most of the time."
Regardless of the high numbers, the experience of a day at Universal with just classmates is a once in a lifetime opportunity. Even though there will be many seniors filling up the amusement park, the crowds of tourists and regular guests will not be a concern.
"I want to do Grad Bash because everybody's going to be there, the rides are going to be super fun, and it's a fun time," senior Fernando Garcia said. "It's a good way to end senior year. I don't go [to Universal] very often, so to go with all my friends at one time is really cool."

About the Contributors
Joelle Wittig, Editor in Chief
Joelle Wittig is a senior and is a third-year staff member and the Editor-in-Chief of The Brantley Banner. Outside of newspaper, Joelle has played basketball...