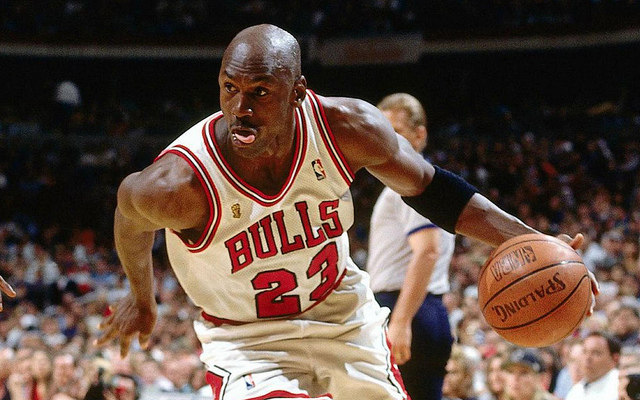 Due to the coronavirus outbreak, all professional sports have been put on hold until further notice. However, to quote Plato, "necessity is the mother of invention." The public needed sports content to entertain themselves during these quarantined times, and ESPN has provided just that with "The Last Dance," a ten part documentary airing on Sunday nights that details the career of NBA luminary Michael Jordan.
"The documentary became an extra activity to do with my time in quarantine," senior Nathan Lach said. "There were a lot of things I could do in quarantine but this documentary is what not only me but many people have been waiting to watch for a long time."
Besides simply giving fans of basketball content to watch, the documentary serves as a ten hour long time machine; it puts the viewer right into the games, culture, and atmosphere of the era of Jordan's playing days. For many younger fans, his entire career spanned before they were born, so this series helps to put some context to the mythological state he has risen to.
"For the new generation, they don't really know much about Michael Jordan," Lach said. "Only the fact that he is like a superhero of the modern world."
In contrast, "The Last Dance" is nostalgic for those who were around and remember the playing days of Jordan. Even those who were not basketball fanatics remember Jordan; not just because of his ability on the court, but because of his success off of it.
"The actual footage of Michael Jordan playing brings back some hazy memories for me," history teacher Vita Simmons said. "I was never really a basketball devotee. But, Michael Jordan transcended basketball. His successful career on the court permeated American culture through shoes, food and beverage endorsements."
Besides the plethora of jaw-dropping highlights that the documentary flashes on the screen, what many may take away from the documentary is a sense of motivation. Although most Americans are isolated in their homes, "The Last Dance" has sparked an energy to not fall into indolence during this time, but to push forward and continue working, just like Jordan did every year of his career.
"What I learned from the documentary was that it doesn't matter how good you are at something, it is about how your personality can bring people together and see you as a leader and a general role model," Lach said. "MJ was a prime example of this. Even through tough times, he still pulled through and that's what life is really about. Pushing through even when times look their darkest."
While "The Last Dance" has reopened many debates in the sports world about where Jordan fits in the pantheon of great basketball players, and whether or not he still holds the title as the greatest to ever play the game, the series has made perfectly clear how influential Jordan and his brand were off the court.
"Without question, Michael Jordan's presence on and off the court re-scripted the meaning of athletics," Simmons said. "An athlete today is both celebrity and entrepreneur- by virtue of their athletic prowess, they become a brand. Michael Jordan led the way in cultivating the synergy between athletic performance and marketable profit. For these reasons, there is no doubt in mind, that Michael Jordan stands as the most influential athlete of all time."