The Re-emergence of "America's Pastime"
When the final strikeout was thrown just 19 minutes before midnight, and the Washington Nationals were crowned baseball champions for the first time in their 50 year existence, many fans left ecstatic and reassured in the promising future of baseball. A sport that has been previously turning in lower and lower viewership numbers as well as ratings, finally delivered a championship event that reaffirms why baseball used to be considered "America's pastime."
The 2019 World Series appears generally unexciting on paper. Only two of the five games were decided by three runs or less. For the first time in the lengthy history of baseball, the home team never won, making for disappointed fans who spent their hard earned money to buy expensive seat tickets, only to see their team come away with a disheartening loss. However, individual performances and passion filled moments made the scores and statistics look deceiving and propelled the seven game battle between the Houston Astros and the Washington Nationals to a high standing in the baseball world.
"The most exciting moments are close games against rivals," sophomore Leah Schmutz said. "The aspects that makes those games so fun to watch is seeing how the teammates work together to make incredible plays."
In most baseball games, causal fans tend to watch for the home runs and 100 mile per hour pitches, while the hardcore fans tend to notice the player interactions and moments. In this playoff series, every fan was tuned into these colorful players, nearly making the World Series a soap opera, rather than a sporting event. Alex Bregman, the Houston veteran, smashed a home run and then carried the bat tauntingly to first base before finally flipping it. Juan Soto, the cocky 20-year-old superstar, hit a home run and then brought the bat along for the trot to first base to copy Bregman and spite him four innings later. Daniel Hudson, the Nationals star pitcher, struck out the last batter to win the World Series, and then proceeded to scream.
"More people should watch modern baseball," Schmutz said. "Very few people realize the skills and talent needed to win."
Blistering fastballs, 400 foot home runs and diving catches have and always will be exciting, with the added bonus of being an integral part of the sport. With the added personalities and character that the new generation of baseball players showed in this World Series, baseball has reaffirmed itself as "America's pastime," and one that will be sticking around for years to come.
About the Contributor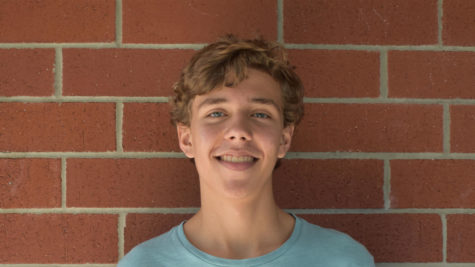 Carson Yore, Staff Reporter
A senior school staff reporter at the Brantley Banner, Carson Yore is a varsity tennis and cross country runner here for the Patriots. You might see him...