Girls Lacrosse Introduces Leadership Squad
Before the upcoming season, the Lake Brantley girl's lacrosse program was revamped to include a leadership squad. The main principle is to take five leaders on the team, chosen without regard to graduation year or varsity/JV level, and make them an integral part of the team's functionings and progression.
"I was introduced to this idea by another lacrosse coach and I decided to study it," varsity lacrosse coach John Ault said. "Then at a visit to Embry Riddle University, I discovered that their head coach utilizes the same concept, only she names it The Leadership Council and she includes this council in almost every decision there is regarding the program."
The leadership squad is replacing the captain system that had been a part of the lacrosse program for years. The hope is to cultivate true leadership within the squad, rather than just elevate certain members who have the potential to become bosses.
"The girls have more of a sisterhood vibe already," senior Allison Rosenberg said. "Everyone is nice to each other and we all lift each other up."
Once a week, the squad meets up to have discussions and do activities. These sessions seek to foster a sense of family within the team, as well as impart lessons that can help the entire team develop a better sense of responsibility and leadership.
"The discussions we have at meetings relate back to lacrosse because all of the leadership ideas and activities we talk about are shown around the team," freshman Peyton Perales said. "We show the team what we are doing as a family and how they can help impact our goals."
Another key component of the weekly meetings are book discussion. Captains read assigned parts of a book during the week and then discuss the meaning and how it relates to the team and can improve their daily lives.
"The books are all about life and how to handle negative people and situations," senior Lisa Reichelson said. "This really relates back to the field as well, as positivity is a vital part of successful teams."
While the squad is still in its initial phases, it has very ambitious goals for the future. These plans range from team bonding to potentially establishing smaller student-led leadership groups, including ones that might not need the coach to be present.
"We plan to challenge players throughout the year with putting then in situations where they can lead, and lead by serving," Ault said. "Our Squad will be selecting Game Captains each week and I will be watching to see how they handle and serve. One thought yet to be announced is to have my squad leaders branch out and 'chair' their own small group of players in a leadership book study. I hope to have each one set up with 4-5 players and hold their own study sessions and weekly meeting on the book that I select for them to read. We also have some great team bonding activities in the works."
The leadership squad is an immense undertaking that rethinks how high school sports should be organized. While the lacrosse season has yet to start, it has already impacted the lives of captains, and the identity of the team as a whole.
"The best lesson I've taken away from this is that you have to love the people you're working with," Perales said. "If I want to be a leader on my team, I need to love my teammates and let that be known to them."
About the Contributor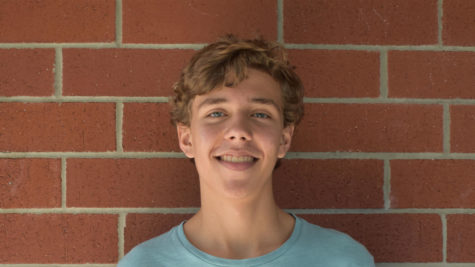 Carson Yore, Staff Reporter
A senior school staff reporter at the Brantley Banner, Carson Yore is a varsity tennis and cross country runner here for the Patriots. You might see him...