NFL Draft goes Virtual
From Apr. 23-25, the NFL held its first ever virtual draft, an alternate to the large gathering in a major city that a normal draft consists of, in an attempt to keep all employees, players, and coaches safe from the COVID-19 pandemic. Each individual team utilized technology to make their player selections from the comfort and safety of their homes.
"The cool part was that we got to see the inside of the coaches and general managers houses," sophomore Ben Morris said. "Also, seeing their families was cool because with that job you are always away from your family."
From a viewership standpoint, the draft was largely a success, as 55 million people tuned in over the three day event, and ratings increased 16 percent from 2019. However, going virtual came at the cost of some of the excitement and energy the normal drafts are able to generate.
"The worst part was missing the excitement of watching the players come on the stage in front of the crowd and get their jersey and such," senior Reese Bennett said. "It's probably the biggest difference between the virtual draft and regular draft that the players are just in their own homes, just like everyone else."
Whether viewed as a success or not, the 2020 virtual NFL draft was a testament to how far technology has advanced over recent years to even allow a draft to happen this year at all. To top things off, there were plenty of bloopers for fans to enjoy.
"My favorite part was Nike, Bill Belichick's dog who was in his chair when they showed Belichick's draft room," Bennett said. "Draft dog was something you'll only get from a virtual draft, and it was hilarious."
About the Contributor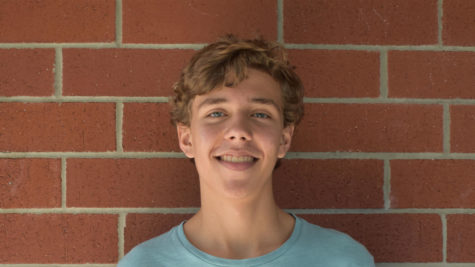 Carson Yore, Staff Reporter
A senior school staff reporter at the Brantley Banner, Carson Yore is a varsity tennis and cross country runner here for the Patriots. You might see him...