Netflix and Hulu's fresh best
Let us be honest, many people have spent a lot of time scrolling through Netflix and Hulu trying to find a decent show or movie to watch. Enjoyable shows throughout the span of both Netflix and Hulu are hard to find. Here is a list of three popular shows that I personally enjoy; "The Umbrella Academy", "The Office", and "The Seven Deadly Sins".
" The Umbrella Academy" is a Netflix original and it was in the top ten on Netflix rankings for about 27 days. If you are into the bizarre and sci-fi genre, you should put this on your watch list. Reginald Hargreeves, a rich, intellectual man, adopts seven kids. Each one is gifted with a power or unique ability. This is no ordinary family though, it is full of time traveling assassins, dysfunctional hijinks, and some dark pasts. Many people have given this show much praise for its cinematic filming. It is an amazing plot that left me in awe. I still can not believe how amazing the effects were. "The Umbrella Academy" is definitely worth watching.
" The Office" has been ranked number eight in TV Shows Today. It is honestly incredibly addicting and binge worthy. The setting takes place in a paper company in Scranton, PA, named Dunder Mifflin. It is a show of humor, tears, and romance. The regional manager, Michael Scott, has made many viewers laugh over his comical idiocy and his obscure personality. Dwight Shrute, assistant to the regional manager, owns a 60-acre beet farm among his Amish family and rivals his desk mate Jim Halpert, the prankster of the bunch. This show truly can put a smile on your face. Viewers are still hooked on how the context of the unique filming style that pulls the show together. If you are into comedies, this show will be the perfect fit for you.
"Seven Deadly Sins" is about seven of the most powerful people on the planet that have been accused of betraying the kingdom of Liones. When Princess Elizabeth stumbles into a tavern in search of the Seven Sins, she is surprised to see a young boy working the place. Elizabeth soon finds out he is Meliodas, the dragon sin of wrath. They set off on an adventure to reunite the seven deadly sins to fight the true evil. Anime lovers are engrossed in the show's animation and incredible art style. This probably is in one of my top favorite anime shows, the animation is so fresh and the translation from Japanese to English is not altered that much. It gives me relief that I am not missing out on something in the translation which many have concerns about. Season four has recently been released on Netflix and you should definitely watch.
These shows all are unique in their own way and are definitely worth watching. Each show has positive reviews from viewers. So, if any one of these sounds interesting to you, check it out on Netflix or Hulu today!
About the Contributor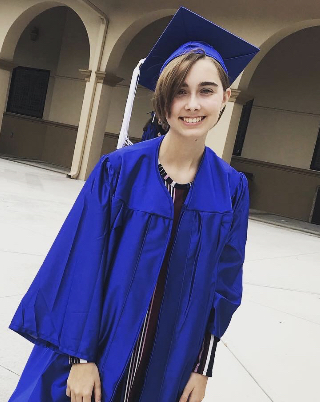 Ada Grieger, Staff Reporter
Freshman at lake Brantley, who loves to write and share stories. She volunteers at the Central Florida Zoo's Teen Team and loves to spread animal awareness...