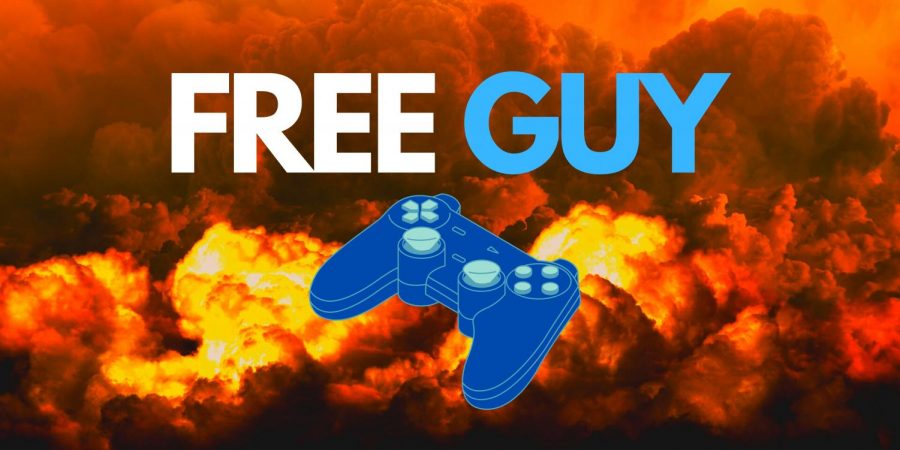 Photo provided by: Julia Moon
Review on "Free Guy"
September 14, 2021
Ryan Reynolds features as the titular Guy, a banker who repeats his days over and over, as is his duty as a non-playable character, or NPC. Over the first 30 minutes, he discovers that the special 'Sunglasses People' are real people playing the video game he exists in, called 'Free City'. After meeting and quickly falling in love with MolotovGirl, played by Jodie Comer, Guy gains intelligence and a new life outside of his job. 
Millie Rusk is behind MolotovGirl's actions in the real world. Rusk only plays to prove that the developer of 'Free City' stole the code she wrote for a game called 'Life Itself' with Walter "Keys" McKey, who now works for said developer. McKey discovers that their code was actually stolen when Guy develops sentience, a feature in his game.
Seniors Julia Moon (pro) and Faith Shimick (con) present their thoughts on the movie.
"Free Guy" isn't a good movie, it's a great one
As a casual gamer myself, NPCs (Non-Playable Characters) can range from being the best helper to being the worst character in the game. One might even think that if the character were playable, they would have been able to do a better job at the task than what was programmed into the game itself. Despite not being a real non-playable character, Ryan Reynolds is probably the best NPCs to ever exist. That is, if 'Free City' was an actual video game. 
Directed by Shawn Levy and produced by Levy, Reynolds, Sarah Schechter, Greg Berlanti and Adam Kolbrenner, "Free Guy" is a solid, fresh take on action comedy. Being able to cater to streamers, gamers, and Ryan Reynolds fans, the success of "Free Guy" wasn't really a surprise to me. 
Movies have their fair share of cameos and easter eggs, and "Free Guy" definitely does not disappoint. With big name cameos such as Hugh Jackman, Dwayne Johnson, Tina Fey, Chris Evans and a handful of YouTube personalities among others, the film was filled to the brim with surprises and hilarious gags. Reynolds really is someone who is inherently funny, which I doubt was ever a surprise as he is famously known as Deadpool, the comedy-filled antihero based on the character from Marvel Comics and future addition to the Marvel Cinematic Universe (MCU). 
The idea of going from the real reality to an alternate one is common. Movies like "Ready Player One," "Tron," "The Matrix," "Jumanji" and many others have used this concept before, all with vastly different ideas and stories. "Free Guy" is no exception; although it is possible that this concept could have become a boring commonplace in the film, Levy takes this view and puts it visually on screen in a believable way, making you feel like you're being immersed in the fictional game and experiencing the adventures that Guy, Reynolds's character, goes through in order to save the game from Antwan (Taika Waititi), the CEO of the fictional game developer Soonami Studios.
While others might say that the movie is too crowded with cameos and product placement, the film places cameos and references to a handful of popular video game titles such as Half Life and Portal throughout the film without making it seem over-the-top. Being someone who enjoys the connections that the filmography makes to particular video games, the blatant references were not a hassle at all to watch. 
"Free Guy" has its fair share of ups and downs, and while some might comment that video-game inspired movies are a little too redundant in this time and age, the action-comedy flick definitely deserves to be a part of my growing list of video-game-esque movies to look out for.
Leave a Comment
Free viewers from the train wreck of "Free Guy"
In the world of steadily increasing theater premiers, "Free Guy" seems to welcome viewers with a sense of adventure and an ever-rarer originality. The movie, produced by 20th Century Fox, which is owned by Disney, radiates a seemingly great premise. However, "Free Guy" falls short of its promises.
My two main issues with the movie, other than the performances, are the lack of diversity and Disney's incessant marketing.
Disney, normally a decently inclusive company, took a few disappointing steps back in this movie. The film places Buddy, played by Lil Rel Howery, in the outdated role of Black sidekick, stereotypically doomed to die for the white protagonist. Furthermore, it barely passes the Bechdel test, having an unnamed waitress antagonistically kick Comer out of her coffeeshop. The only other time two women appear on the screen is in a crowd, waving next to each other.
Even if I were able to ignore the deficiency of diverse actors and roles, I refuse to gloss over Disney's needless cameos in this film. When Guy fights Dude, a supposedly better version of himself, Guy pulls out weapons from Disney's endless and overused arsenal. First on the spot is Captain America's shield, and right after viewing, the movie cuts to a shot of Chris Evans watching Guy on his phone. Then Guy punches Dude with a Hulk fist, all while the Avengers theme plays. Guy pulls out a lightsaber, and lo and behold, the Star Wars theme.
20th Century Fox deserves its own projects. They still make movies with their logo at the beginning for a reason— they work in different genres. Disney should not feel entitled to load them up with mainstream references. 
Other, well-placed cameos may excite the typical viewer, such as streamers JackSepticEye, Ninja, Pokimane, and more, but there is a place and time for cameos. Those people belong, due to the vibe of the movie. Chris Evans does not.
Dude was arguably the best part of the movie, and that is because his simplicity leaves no room to be upsetting. From "Catchphrase!" to "Friendly gesture!", Dude's unfinished dialogue made him funny enough to be the dumpster diving find of the day.
I really wanted to like this movie, but there are just too many unpleasant parts that add up to an insufferable whole.
View 1 Comment