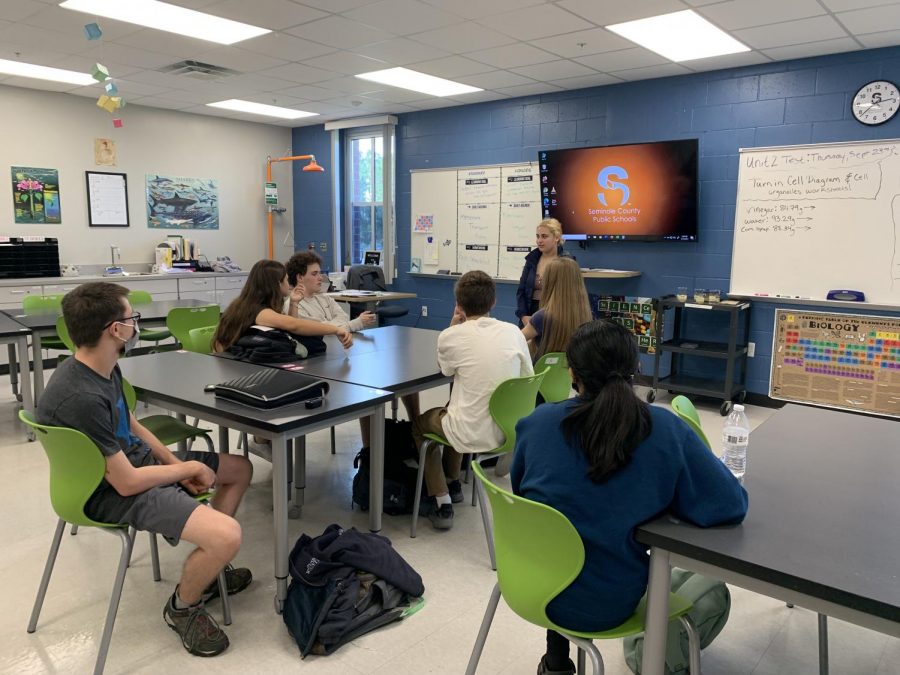 Photo provided by: Julia Hubbell
Pre-Med Club
The Pre-Med Club on campus meets every other Monday in sponsor and biology teacher Rachel Shaw's room 5-026. Their goals are to dive into the world of medicine and allow members to test the waters of different occupations in the medical field. The members range from students with pre-decided fields of study to students who are interested in the topic but unsure of where they stand in such a vast career field.
"I would say the main goal is to dip your toe into the different medical fields," club sponsor Rachel Shaw said. "Within being a doctor you can study various different diseases and parts of the body, or something more holistic, or something like physical therapy."
Led by senior and club president Lindsay Rosichan, the group was formed when multiple students expressed curiosity and interest in the medical field.
"My inspiration was seeing other schools having these really cool opportunities in the medical field, and I always wished we had that opportunity," Rosichan said. "I hope to accomplish creating more medical professionals for the future and inspiring others to pursue something in the medical field."
This group participates in numerous activities, all of which center on expanding members' knowledge of medicine, the medical field and of current medical projects.
"The most that they're gonna gain is that experience," Shaw said. "Trying out something, and seeing if you like it. If you don't, you can pivot and go from there with what you want to do."
Multiple members of the club, including treasurer junior Abby Roberson, have already decided which field they hope to go into. For them, this club is a chance to expand upon their knowledge of that field.
"I am working to become a holistic psychiatrist," Roberson said. "Through Pre-Med Club I am able to gain access to important information and opportunities that help put me in this medical field."
Activities in the club remain diverse, as Rosichan wants to provide ample exposure to a variety of activities. This allows each member's interests to be fed, while also allowing them to experience activities they are unfamiliar with.
"In a meeting we normally discuss different medical specialties and different aspects of the medical field," Rosichan said. "We also talk with those who work in the medical field and they give us insight on their speciality and how they pursued their career."
As with most clubs, members gain a sense of community rooted in a common interest in their study. Their unity stems from each members' desire to explore medicine.
"I wanted to have a place where we could come together and be passionate about something we enjoy," Rosichan said.
Donate to The Brantley Banner