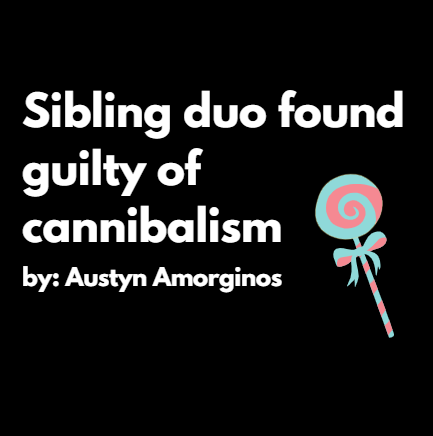 Photo provided by: Avery Ranum
Sibling duo found guilty of cannibalism
A brother and sister were charged for cannibalism and the murder of over 10 people. Hansel and Gretel Leiderhosen, the children of the village woodcutter, Wheresmeine
Leiderhosen, were found with the dead remains of Lydia Witching. Witching's house had a basement, which was where the bodies were found.
"The scene that my team and I found in that house was truly horrifying," investigator Maurice Hound said, "The oven that was in the basement is where Witching was found. The body was burned and there were other bodies that are so dismembered we have not identified them yet." 
Hansel and Gretel were found at the scene and have been charged with the homicide of the bodies and the consumption of them. Hansel and Gretel were found with human remains on their hands and their digestive systems. Leiderhosen informed the court and the police that this was all his fault. He tried to take the sentence that was assigned to his children.
"I was their father," Leiderhosen said. I sent them in the woods because I was struggling to look after them. I just recently lost my wife and was low on money. If I never sent them away and forced them to meet this level of insanity to survive then I do believe that this horrendous crime would never take place."
Hansel and Gretel claimed to be innocent and had the statement in court that Lydia Witching was a witch. They said that she force-fed them an array of food that had human remains, but they were not aware of that.
"Lydia was a monstrous witch who put me and my brother in a life-threatening situation," Gretel said. "My brother and I recently lost our mom and were thrown into the woods on our own. We had no guidance or protection. An old woman, who was pure evil, took advantage of us by feeding us the evidence of her last murderous crimes. She was feeding us to fatten us up to proceed to eat us. If we did not push her in that oven we would not be here today."
Witching was a citizen with no criminal record. All the evidence pointed to Hansel and Gretel and the court did not rule in the children's favor. They will each be facing a life sentence for the crimes they have been convicted of.
"I'm just so glad that these dangerous children are being punished for their crimes," Witching said.
Donate to The Brantley Banner