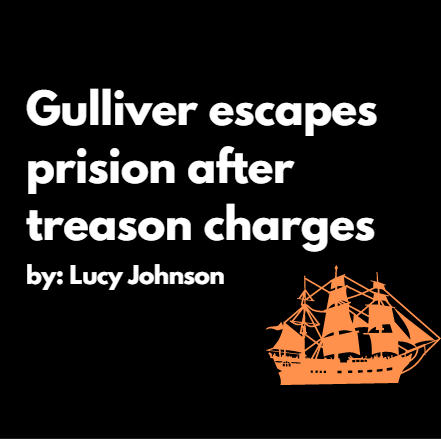 Photo provided by: Avery Ranum
Gulliver escapes prison after treason charges
Danger struck the tiny island nation of Lilliput when a shipwrecked man was charged with treason along with several other crimes and then quickly escaped. The man, Lemuel Gulliver, was sentenced to being blinded before he made his escape. 
"It was terrible," John Lilliput said. "I swear I saw him urinating in the capital too."
Gulliver had been washed ashore days prior and was taken in with explicit permission from King Theodore. 
"I thought he was trustworthy," Theodore said. "He looked very nice and I had no reason not to trust him." 
The escaped convict had a lot of close allies with ties to the court. He had previously helped minimize conflict, making his crimes all the more shocking. Gulliver started to become an enemy when he refused to help reduce the island of Blefuscu to a province of Lilliput. 
"The fact that he had to run just shows how stupid we were to acknowledge him," royal court member Steve Lilliput said.
Gulliver may be in the nearby nation of Brobdingnag. Citizens of all islands nearby are obligated to alert local authorities if they spot him. 
"Everyone is on the lookout; if you see him, tell someone, do not hesitate," chief of Brobdingnag said.
Donate to The Brantley Banner
As a public forum for student expression, The Brantley Banner welcomes letters to the editor and comments on articles, but reserves the right to refuse inappropriate letters and comments.