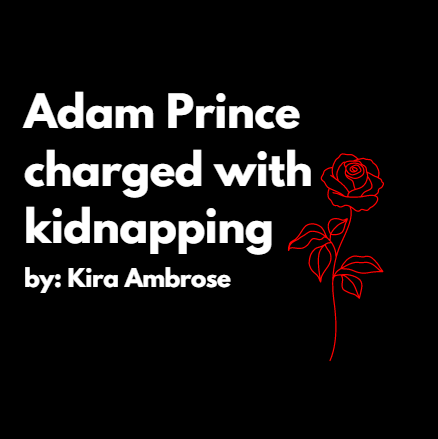 Photo provided by: Avery Ranum
Adam Prince charged with kidnapping
On Sun. night, Adam Prince was tried and charged with the kidnapping of Belle and Maurice Beauty. Previously missing, Maurice reappeared and immediately informed law-enforcement to the location of Prince's mansion, where Maurice had been kept against his will and where his daughter, Belle, was still trapped. By morning, Belle was recovered and Prince was arrested, Prince being found in a fursuit and Beauty claiming to be in love with him.
"It was creepy how distraught she was when we tried to arrest him," Orange County police officer Ai Suzuki said. "She was pleading with us and she tried to punch my partner. We attempted to calm her down, but she just wasn't having it. I've not been involved in many kidnapping arrests before, but even I know that's not normal. Responding to kidnappings is common, but the kidnappee loving their captor? I've not seen that before."
After Prince's detainment, Belle was brought home to rest and recover. Maurice took the week off to take care of his daughter, but after his realization of just how sorry of a mental state she was in, he sent her to a treatment center to recover. There, Belle was identified as having developed Stockholm Syndrome for Prince. Unfortunately, Belle struggled to recover, but with the help of friends and family she gathered the courage to speak in front of a jury.
"It had been nerve-wracking, but I put on a brave face," Belle said. "I walked up there, told my story, and looked him defiantly in the eyes. I wanted to make sure he knew that I wasn't going to be taken advantage of a second time. I think that message got across."
Maurice, who also testified, was excited over Prince's guilty charge. He was grateful that the man would not have the chance to hurt anyone else.
"It wasn't easy," Maurice said. "The defense's argument was that we wanted to come with him. so I think having both of us attest to our unwillingness was ultimately what won the case."
After his reflection on the situation, Maurice concluded that his daughter had come a long way, and he couldn't be prouder. Though the Beauty family is still in recovery, Belle and Maurice have found themselves stronger than ever before, and have nothing but hope for the future. Though they found their capture traumatic, the duo is glad to have brought Prince to justice.
"Now he can't make anyone else go through what we had to," Belle said.
Donate to The Brantley Banner