Who is Patriot Pete?

Loading ...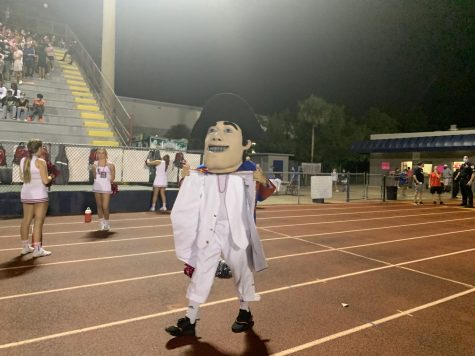 Although it is meant to be a secret among the school organizers, sophomore Chase Morris is well known as the mascot, Patriot Pete. Students love to see his energetic and crowd roaring performances during the Friday night lights. Morris has been mascot for almost a whole year, despite the ongoing pandemic making modifications to the football schedule.
"Key elements of being the mascot are being energetic, different, creative, and most importantly having an open mindset," Morris said.
Morris shows that he excels at being Pete when he performs at the games. The student section loves to see him go the extra mile to guarantee the pep. Morris does everything he can to get them involved with the game.
"Putting on the costume is just Chase Morris, but amplified and incredibly confident," Morris said.  "I can be myself with no real shame or pressure to act a certain way." 
Morris puts in his all when it comes to being the school mascot.  By getting his "incredible workout", he makes the games just a little more exciting during fouls or between plays. He has a real love for performing as he does, and has loved it ever since he started.
"The best part about performing at games is being able to see and hear the student section because they cheer me on," Morris said.
Morris makes sure to do what has not been seen before to boost the crowd and get them going. He has pushed through the fear of performing, and it shows when he puts on the Pete costume.
"Craziest thing I've done as Pete is definitely become a flyer, " Morris said."[I] stunted with the cheerleaders."
The confidence that the costume adds to Morris is what allows him to do the things that come with being Pete. Although being Pete has its ups and downs, he has a love for creating school spirit amongst the crowds. 
 "I've continued to be Pete for so long because I have so much fun," Morris said "I love entertaining people."