Girl's golf: taking a swing
Fresh into their season, the girls golf team has experienced great success. With their first match on Thursday, Aug. 26 being a victory, momentum has been built and the team's spirit has been boosted. Additionally, with their starting match already behind them, the players are now familiar with the areas that need improvement, as well as their strong suits. 
"Our most recent match went very well," junior and golf team co-captain Alexa Walsh said. "We won and I think it showed us all what we are capable of, but also what we need to work on. We all know we could have played better but it was also great to see us win as a team."
The team had to adjust this year as their previous coach, Peggy Leis, was unable to return for the new season. However, the team seems to be adapting well to their new coach. 
"Mrs. Leis couldn't coach this year, so we got Coach Gabe," junior and golf team co-captain Hannah Williams said. "He's really awesome. He works with the Access program here, which is the special needs program, and he's super nice."
Like any sport, golf serves as an excellent opportunity to socialize with people and make new friendships. It can also be a chance to rekindle old bonds and play with former teammates. During the match, freshman Bretton Mackiewicz was reunited with a former teammate. 
"One moment that stood out for me [from the first game] was when I got to the first tee, the girl I was playing against was a girl I have played with in junior golf tournaments," Mackiewicz said. "It was a lot of fun to play with her."
With the recent victory under their belts, the upcoming season is looking very promising for the girls golf team. Excitement, confidence and comradery are high for the girls, as is anticipation for lots of success throughout the rest of the season. 
"I feel really good and confident about my game and can't wait to play different schools in upcoming matches," Mackiewicz said. 
About the Contributor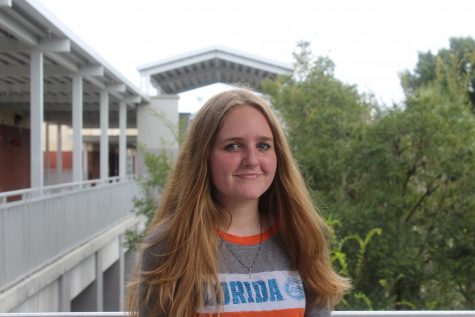 Annaliese Long, Staff Reporter
Annaliese Long is a sophomore and first year staff reporter for the Brantley Banner. Her non-academic hobbies include creative writing, listening to music...