The introduction of the Omicron variant in Seminole County
 As the second semester of the school year kicks in, students return to campus with an unanticipated anxiety as an additional strand of COVID-19 has spread throughout the U.S.
The Omicron variant was first discovered on Nov. 24 in South Africa, and it quickly spread to the U.S. at the start of December, just a few weeks before winter break. With the addition of this new variant, there has been an increase in COVID cases seen throughout Seminole County, with 4,132 cases that have been recorded since Friday, Jan. 21. On campus, there have been a collected 152 cases lending to a total of 991 quarantines have been recorded.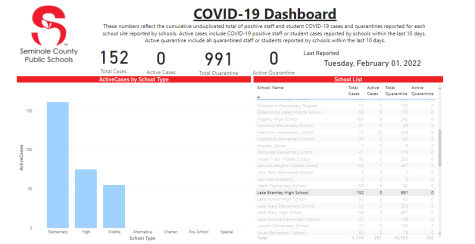 "I feel that both the students and staff should take the Omicron variant just as seriously as the other two," sophomore Brandon Liekhus said. "Even though the effects of it are less extreme, people are still getting sick as we're spreading it to one another."
There has been much hope surrounding the advancement of the school year as the community works to continue moving past the difficulties that the past two years have held for students and faculty on and off of campus. After the mask mandate meeting back in Sept. 2021, the administration and school board have continuously made strides to try and stay on top of various protocols that have been put up throughout the year. 
"The new strand will probably cause a greater outbreak as people come out symptomless or with very mild symptoms," senior Jeremy Cruz said. "For example, I'm relatively positive. I have the Omicron variant right now, and I have barely any symptoms; all I had was one or two days where I was feeling inconsistent allergies."
Due to the non-severity of symptoms for a lot of people, it can become nearly impossible to differentiate the Omicron variant from the common cold or sinus infection. Unlike previous COVID variants, the loss of taste and or smell have rarely been reported. As previously mentioned, the symptoms range from being mild to non-existent. The most common signs that have been reported were tiredness, a sore throat, a cough, and a runny nose.
"It will be harder to take COVID seriously since this variant resembles a common cold, and it will be harder to know when someone potentially has COVID," Cruz said.
When the first vaccinations became available there was a combination of unease and excitement as there were mixed opinions about them. They opened up more opportunities for those who chose vaccination by making international trips, cruises, and events accessible. Regardless of this, however, there is still a dispute over the vaccinations at large as both a large majority remain vaccinated and unvaccinated.
"The vaccinations have definitely helped a lot of people everywhere gain back a level of freedom," senior Anastasia Kozeroff said. "There are less restrictions with those who are vaccinated than those who aren't."
The county's new protocols have been efficiently used to reduce the risk of spreading the virus. New testing sites have become available to those within Seminole country during the winter break. As of Jan. 5, the Seminole County Health Department and Seminole County Office of Emergency Management made these available by appointment.
"We need to hold ourselves more accountable to make sure we're staying safe," Liekhus said. "If we're not safe, then our friends and families aren't."
Self-Swabbing PCR Testing Sites:
Altamonte Springs Sunrail Station | 8 A.M. – 6 P.M.
2741 S Ronald Reagan Blvd, Altamonte Springs, 32714
Museum of Seminole County History | 8 A.M. – 6 P.M.
300 Eslinger Way, Sanford, 32773
Rapid PCR Testing Sites:
Red Bug Lake Park | 8 A.M. – 6 P.M.
3600 Red Bug Lake Rd, Casselberry, 32707
Seminole State College | Oviedo 9 A.M. – 4 P.M.
2505 Lockwood Blvd, Oviedo, 32765
Florida Department of Health | 9 A.M. – 4 P.M.
400 W Airport Blvd, Sanford, 32773
Medical Testing Sites:
Sanford Sunrail Station | 8 A.M. – 5 P.M.
2720 W State Rd 46, Sanford, 32771