Homecoming Game
Hang on for a minute...we're trying to find some more stories you might like.
On September 7, students from across the campus gathered together to participate in the Thursday night homecoming game. Whether as a player, spectator, or a part of one of the activities, everyone had a place at the game. Usually, the Varsity game is held on a Friday, but due to Hurricane Irma, it had to be moved up a day.
Despite the sudden change, football players came to the game spilling with Patriot pride and ready to deliver a win. The varsity football team, led by quarterback Brett Hacker, brought home a victory over the Winter Haven Blue Devils 35-28.
"The best part about the football game is seeing everyone come together," sophomore Lindsey Nowak said. "Everyone puts aside their differences to come and support the team."
At the start of the game it seemed as though Winter Haven may have been favored to win due to their early touchdown a mere twenty seconds into the game, but the Patriots fought back until the very end.
"The homecoming game is unique because we have a week building up to the actual game," senior and varsity football player Kyle Lesko said. "The hype builds up through the week and it just makes the players excited."
Despite football being the highlight of the night, other homecoming activities took place, such as the crowning of the senior homecoming king and queen. This year's king and queen are, Matt Little and Jessica Powell. The Spectrum chorus class started the game, by performing the National Anthem. Spectrum chorus is the highest chorus class, and this was their first time performing the show.
"This game is a chance for me to hangout with friends, while cheering on Brantley," senior Samantha Bunnell said. "We all have so much fun in the student section, it's a reminder that football games are more than just football."
The marching band brought school spirit and encouragement to the players through their cheers and songs. Another group of students who performed was the cheerleaders. During a normal Friday night game, only the varsity cheerleaders would perform, however at the homecoming game it is tradition that freshmen, junior varsity , and varsity all cheer the team on together.
"The best part about the night is being able to cheer with all my friends on every team," junior and junior varsity  cheerleader Cecilia Dequattro said. "We all come together hoping for a win."

About the Writer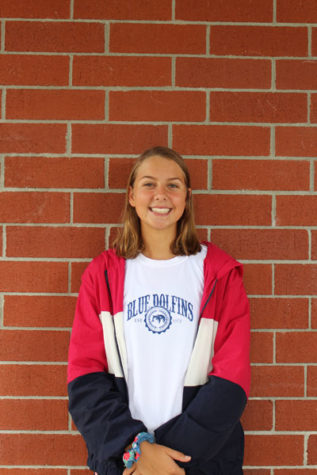 Madison Harris, Business Manager
Madison Harris is a Junior and second year staff member. Madison is the Business Manager and one of the multi-media editors for the 2018-2019 school year. Madison has a passion for writing, helping others and laughing very obnoxiously. Some clubs Madison is involved in are, Fellowship of Christian Athletes, the anthem club, Business Professionals of America...