Alpha
Hang on for a minute...we're trying to find some more stories you might like.
Albert Hughes' 2018 adventure film "Alpha," takes place 40,000 years in the past and follows Keda (Kodi Smit-McPhee), a new hunter who was left for dead by his tribe after his first hunting trip went awry. Keda soon forms a bond with a wolf he met that he calls Alpha and the two work together to try and survive the harsh trek home.
The writing of this film was very unique because it was told through subtitles. The characters spoke in an entirely made up language. The plot for this film was fully developed and unpredictable. The plot showed courage, bravery, and honor, and proved to be a very empowering story. Adding to the archetypes of the plot, there was also a lot of symbolism that was used to relate Keda to Alpha. The storyline was historically accurate to what the history books say which created an enlightened vibe.
The performance in this film by Smit-McPhee was more than phenomenal, as he acted with strong emotions and facial expressions. Keda's father, Tau (Johannes Haukur Johanneson) was equally as great at showing his emotions, crafting his acting as if Tau was a real person, one that he was close with. With an essentially silent film, the cast of actors portrayed their characters beautifully and worked together to create a strong ensemble that rounded the entire group of characters together. Acting with primarily just emotions is not a simple task, but the cast of "Alpha" made it seem like it was nothing, as it seemed effortlessly performed.
The cinematography by Martin Gschlacht in this film was breathtaking. Every scene had lighting that effectively matched its mood, which shows that Gschlacht is skilled and professional with his work. There were many unique and different camera angles which created movement in the film, as its technical side was more than basic. Gschlacht utilized symmetry beautifully in his camera work, which led to an astonishing outcome of visual gratification, as it was beautiful at enrapturing two sides of very intense scenes in a chaotic-neutral way. On top of that, each transition between the scenes flowed smoothly, showing that the editors worked close with Gschlacht to bring everything together. Throughout this film, Gschlacht used depth of field in beautiful ways to blur the background and leave important things focused in the foreground. He was also able to show that Keda and Alpha were walking through the vast openness, which really shows how alone they were while making their intense trek.
The sounds that were used in this film were great at evoking emotion as they aided the moods of the scenes in order to deeply portray them. The costumes were crafted with elaborate details, and were stunning. The computer generated imagery was realistic to the point where it was hard to tell that most of the film was shot in front of a green screen.
"Alpha" was a beautiful film that was great at portraying a story that is often regarded as a basis for friendship. A man and his animal companion is an archetype that is often used, but "Alpha" just takes the aforementioned archetype and molds it into a foundation story. With its beautiful contents, this film is one that serves as technical example for future movies.
About the Writer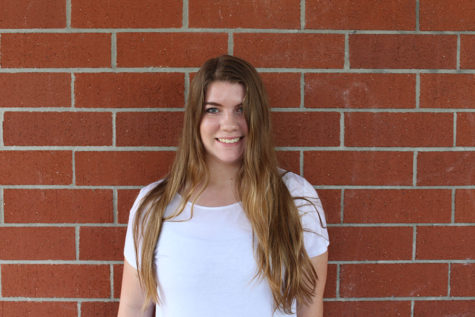 Bridget Froemming, Multimedia Editor
Bridget Froemming is a senior and Multimedia Editor who is ecstatic to be contributing to The Brantley Banner for her second year. She is president of...