80s Must See Halloween Movies
Hang on for a minute...we're trying to find some more stories you might like.
The Monster Squad (1987) Fred Dekker
"The Monster Squad" follows a group of kids who idolize classic horror monsters in their club, 'The Monster Squad.' When the leader of this club, Sean (Andre Gower), receives the diary of monster hunter Dr. Abraham Van Helsing (Jack Gwillim), he soon learns of a powerful amulet that can control the people of the world. The club's fun soon turns to terror when they learn that Count Dracula (Duncan Regehr) has assembled a group of monsters to obtain the amulet in order to take over the world. Dracula, along with the Wolf Man (Carl Thibault), Frankenstein's Monster (Tom Noonan), the Gill-man (Tom Woodruff), and the Mummy (Michael MacKay), attempt to battle the young kids for the amulet they need in order to complete their plans of controlling the world.
This film had a very thorough plot progression and great detail in the sets and costumes that were filmed. Dekker reimagined the classic horror monsters into a stronger and more modern style, which aided the plot with realism and added interest. The acting in this film was strong, as the young actors gave great performances, and those who embodied the monsters did so in an inhuman and creepy way. The special effects in this film were appropriate for the 80s time period, and were backed by a great cinematic soundtrack. Overall, this is a must watch movie for any adventure, horror, or monster fans.
Ghostbusters (1984) Ivan Reitman
"Ghostbusters" follows a team of scientists (Dan Aykroyd, Bill Murray, and Harold Ramis) who dubbed themselves the 'Ghostbusters.' While the group tries to make money from exterminating supernatural forces, a gateway to another dimension opens, and the city of New York soon descends into a state of madness. The Ghostbusters soon power up to defeat the supernatural forces like the Stay Puft Man, Slimer, and the Terror Dogs, in order to save the citizens of New York.
This film is a classic, as its catchy theme song seems to always get caught in peoples' heads. During the time of its release in 1984, it made 295 million dollars at the box office, showing how much of a cultural phenomenon it became. With unique supernatural beasts and witty humor, this film is sure to keep everyone's interest. With great acting, perfect script writing, detailed costumes, and a diverse soundtrack, "Ghostbusters," is a strong film that captures every aspect of a good movie.
Due to this film's growing popularity with society, it was recently remade with a group of female Ghostbusters, which made 229 million dollars in the box office during its run in 2016. This 80's film still holds up as a classic Halloween movie that has something everyone will love.
Beetlejuice (1988) Tim Burton
"Beetlejuice" follows the story of Barbara (Geena Davis) and Adam Maitland (Alec Baldwin) after they die in a tragic car accident. When the ghosts of the Maitlands find that they are stuck in their house, they decide to haunt the new residents, the Deetzes (Catherine O'Hara, Jeffrey Jones,) and their teen daughter, Lydia (Winona Ryder). Beetlejuice (Michael Keaton), a wild spirit, notices the Maitlands and their hauntings. Beetlejuice soon tricks them into asking for help to escape their house, but soon causes destructions for the Maitlands and Lydia and her family.
This film is yet another classic that is still relevant today. Equipped with strong humor, a unique plot line, and amazing acting, "Beetlejuice" is a strong film with great content that will engage viewers of all ages and interests. Recently, this film has been turned into a musical, which shows how much of an artistic impact it has made on society. If anyone is looking for a movie with lots of humor, cool special effects, and a well developed plot line, then "Beetlejuice" is the way to go.
About the Writer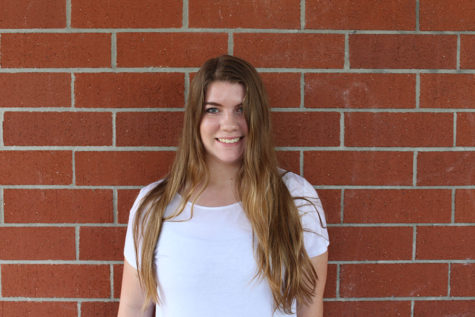 Bridget Froemming, Multimedia Editor
Bridget Froemming is a senior and Multimedia Editor who is ecstatic to be contributing to The Brantley Banner for her second year. She is president of...