Helping the environment one mangrove at a time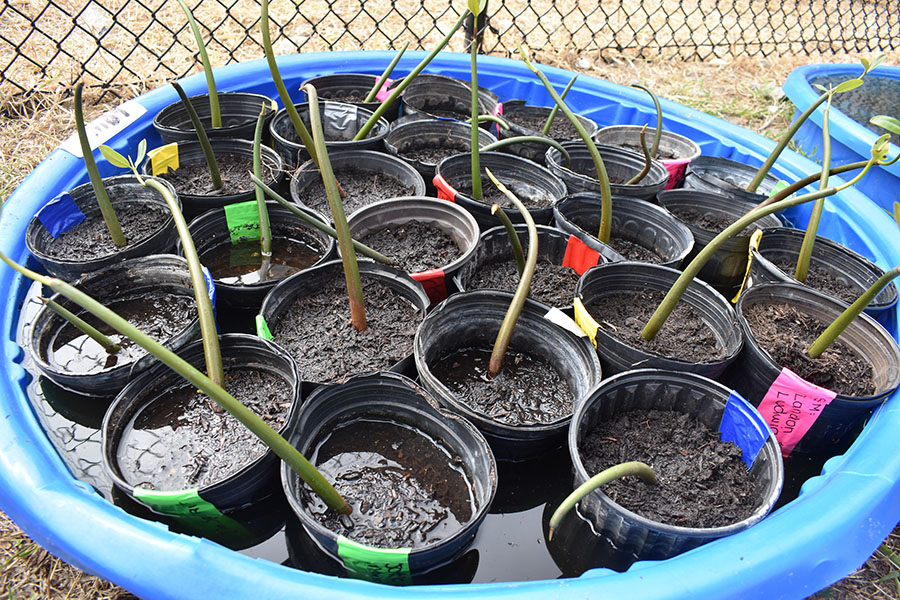 Students gather around buckets, filling them with soil or rocks and burying mangrove seeds beneath the surface. Kiddie pools around campus provide an environment for the mangrove trees to be able to grow.
Biology classes across the school took part in a project initiated by Biology teacher Lauren D'Ambrosio on Nov. 1 to fully understand the effect that mangroves have on the environment. They planted trees behind the Patriot Pointe restaurant and by the Tom Storey Field where they will be collected by UCF graduate students, undergraduates and volunteers in May. UCF keeps them for three to four years in their research facility until they are big enough to plant at shoreline restoration events.
"The process of planting the mangroves is done in class," D'Ambrosio said. "We'll fill up the buckets with either soil or rocks, depending on what variable the students are testing, and from there they just need to be put in water and then they grow. I hope that students will see how interconnected the environment is, how mangroves are such an important species and can contribute to protecting the shoreline as well as acting as nurseries for fish."
Mangrove trees grow on the coast and their roots help to prevent erosion and offer safe spaces for fish to avoid predators. Since the mangrove population in Florida is declining and risking extinction, this project helps to keep them from disappearing.
"Planting them is just an overall good experience," freshman Justis Lall said. "It's fun to do and cool to watch them grow and when they have grown, they can be so useful in the environment to help with erosion on shores. I hope that the mangroves will be placed in a suitable environment to have them keep growing and provide a home in the ecosystem to help fish and other small aquatic life forms and to provide nutrients to all that needs [them]."
Mangrove trees help protect shorelines from the dangerous effects of winds, waves and floods in natural disasters. As wind passes through the trees, the force lessens significantly and the trees create a natural barrier that keeps flooding from causing serious damage.
"They protect the shoreline from hurricanes and floods," sophomore Victoria Ricci said. "Also, if we didn't have them, we would have dirt in the rivers without their roots stabilizing the side. They maintain water and filter pollutants."
This project brought learning to life and allowed students to take classroom concepts to a much greater scale. Students planted the mangroves under different conditions including high salinity, low salinity, deep water and freshwater to see how the mangroves would respond to variables of climate change. They check on the trees monthly to see the changes the trees endure over time.
"There's a lot of parts that I really like about it," D'Ambrosio said. "I think it connects learning so instead of just memorizing things, students have the opportunity to actually go out and experience how to do an experiment, as basic as it may be."
About the Contributors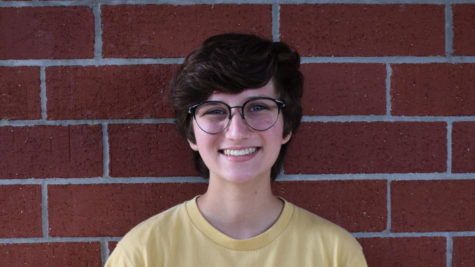 Joelle Wittig, Editor in Chief
Joelle Wittig is a senior and is a third-year staff member and the Editor-in-Chief of The Brantley Banner. Outside of newspaper, Joelle has played basketball...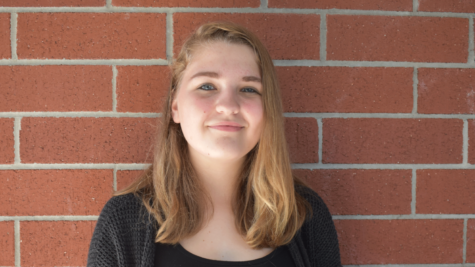 Angelina Jonkaitis, Staff Reporter
Angelina Jonkaitis is a junior at Lake Brantley, and is entering her first year on staff at the Brantley Banner as a writer. She is involved in TV Production...