Crazy about Chacos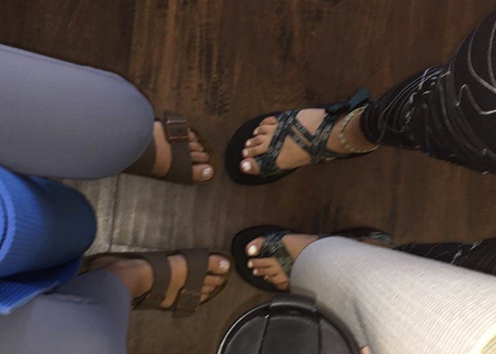 Elizabeth LeBlanc, Journalism 1 Reporter
March 18, 2020
Chacos, the cutest, but the ugliest shoes in the world. These shoes are seen all over the world, but they are mostly seen at camps and in the mountains. They are shoes made for water and hiking and water activities. Thirty years ago there was a Colorado rafting guide that came up with the idea of Chacos. The guide gave them the symbol of the gecko, because of a gecko's ability to adapt in all of their environments. Chacos are so popular because of the customer care that they have, they offer a ReChaco repair program. Chacos are made to be repairable, not replaceable. The most common style is the Z, it comes with double straps or single straps. And it has the option of a toe strap or no toe strap.
"I had two with toe, double strap," Freshman English and PIT Crew teacher, Peggy Leis said, "I finally went to a single strap and I like that better because I have a wider foot."
The styles of Chacos are abundant, meaning there is a style for everyone. Chacos can be made custom or can be ordered from the array of styles on their website or in most outdoor activity stores.
"I got my first pair of Chacos from REI," freshman Delaney Taylor said. "They were on sale for like $70."

Loading ...
REI carries many types of Chacos, most of the time they sell them cheaper than the regular retail price on the Chacos' website. Stores like, Academy Sports, DICK'S Sporting Goods, Hibbett Sports, and other places. Chacos can be found on sale at retail price, But most of the time they have competing brands like Teva, that are cheaper.
"Before I had Chacos, I had Tevas," Leis said. "Because they were a good water shoe, and I would use them to lurk about when we were going out in the Jeep or in the water in the streams."
Tevas were made with the same intet that Chacos were made with. Tevas have a different style compared Chacos. Tevas have velcro straps, but because they do not hold up as well as Chacos, they are not as popular. Some people have only had Chacos, so they only know the quality of Chacos.
"They last a long time and they're waterproof, too," Taylor said. "They're really comfortable."