Man on the Moon III: The Chosen Review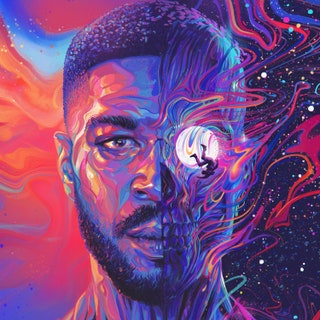 On Dec. 11, rapper Kid Cudi completed his Man on the Moon trilogy with the release of Man on the Moon III: The Chosen. The trilogy follows Cudi's struggle with depression, anxiety, drug addiction, and his alter-ego, Mr. Rager. 
The album's opener, "Beautiful Day", sets the tone and transitions nicely into the first track, "Tequila Shots", which showcases Cudi's meaningful lyrics about his internal struggles over a lush trap beat. While the album starts out strong with "Tequila Shots", many of the following tracks like "Another Day" and "Damaged" are safe and redundant, sounding like they could have come straight off a Travis Scott album. The production is almost too cohesive, with many tracks in the middle of the album sounding the same. 
Despite the album falling apart a bit in the middle, it picks up again towards the end with standout tracks like "Sept. 16",  "The Void", "Lovin Me", "The Pale Moonlight", "Rockstar Knights", and "Lord I Know".  On the album's closer, "Lord I Know", Cudi references the internal battles from "Tequila Shots" and recognizes his resilience for overcoming drug and mental health issues. The track ends the trilogy on a positive note as Cudi highlights his mental strength, while also hinting at a future project with the final line, "To be continued". 
The strengths of the album lie in its lyricism, production, and features, with appearances from Phoebe Bridgers, Trippie Redd, and Pop Smoke. Although the production is basic and repetitive at times, it is rich sounding and cohesive. Cudi's lyrics on this project are inspirational, with references of his depression throughout the album, and ending off the trilogy stating that he is strong enough to overcome these battles. The features contribute nicely to the album and make for some of the strongest tracks. 
While there are many enjoyable aspects to this album, it feels like it could have been so much better if Cudi had not played it safe. Cudi has tried to take risks with some of his past projects and failed, like his attempt at grunge rock in his 2016 album Speedin' Bullet 2 Heaven. Although Cudi has successfully returned to his psychedelic trap roots with Man on the Moon III, there seems to be something missing to this project. There are many strong tracks, but the album as a whole is just good, not great. If Cudi went out of his comfort zone and incorporated more experimental tracks, this album could have been much better, but overall it is an enjoyable listen. The third installation of Man on the Moon is definitely a project worth checking out, but listeners should not go into the album to expect anything groundbreaking from Kid Cudi.