Aftermath of Irma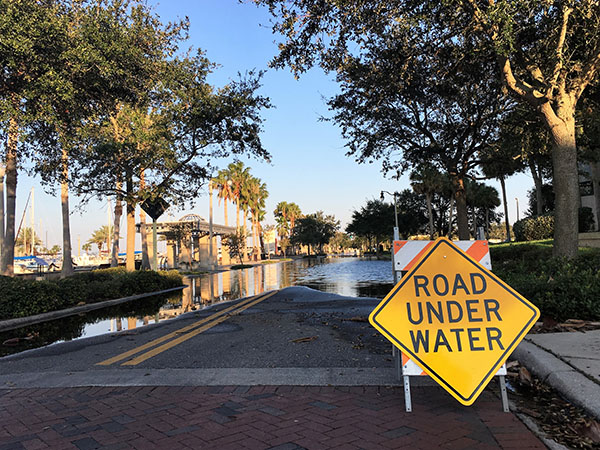 Hang on for a minute...we're trying to find some more stories you might like.
Hurricane Irma whipped through the state of Florida on Sept. 10 and 11, severely damaging many homes, power lines, and other obstacles in its path. Lake Brantley's faculty, staff, and students all felt the impact that this major storm had on Florida and were reminded that preparation is key in order to avoid severe damage. At Brantley, faculty members worked together to ensure the campus was prepared.
"We spent several days securing the campus to make sure everything was tied down," administrator and manager of facilities Brian Shafer said. "All wind screens were taken down.  Trees were trimmed. The main gym was sand bagged to prevent water intrusion. Anything that was free floating was removed or stored properly."
Despite extensive preparation, many teachers and students were still impacted by this hurricane. One teacher who felt the aftermath of hurricane Irma is AP Human Geography teacher Carrie Foster. A large oak tree split in half and crushed one side of her fence, causing damage, but the other half of the tree fortunately missed her house. A large tree branch also blew into the rear windshield of her husband's car, causing it to shatter.
"When we woke up the next day it looked like we lived in a tree cave," Foster said. "The downed trees sat in front of windows and we couldn't see the street.  It was overwhelming to think about the cleanup. Each day we get a little more done and it is slowly starting to look like our home again."
It is common for major hurricanes to leave an unpleasant odor in the air after a storm. This is caused by multiple factors such as rotting wood and sewage issues. In addition to these causes, students were planning to dissect squid on the Friday before Hurricane Irma hit. Since students and teachers did not attend school that day, the squid was left in a refrigerator which turned off due to widespread power outages, leaving the campus filled with a fishy odor around Building 6.
"The smell around building 6 lingered for many days," junior Ashley Arzonico said. "Not only were the students affected, but many of my teachers seemed distressed due to the heat and the smell."
This hurricane also caused the largest power outage ever recorded in the United States. Nearly seven million people were left without power; some students and teachers remained without power for up to a week, which encouraged  the school to implement resources such as access to free lunch until the end of October and the media center being open for students and parents to use if needed.
"I personally used the school's resources since I remained without power for almost a week," sophomore Jasmine Jones said. "The school implementing these resources is so important because not only do many students need them, it eliminated any embarrassment surrounding the hurricane."

About the Writer
Madison Harris, Business Manager
Madison Harris is a Junior and second year staff member. Madison is the Business Manager and one of the multi-media editors for the 2018-2019 school year....