Stranger Things Flips the Netflix World Upside Down
Hang on for a minute...we're trying to find some more stories you might like.
Hawkins, a town located in Indiana, was small, peaceful, and friendly, but when otherworldly forces contributed to the disappearance of a young boy, Will Byers, the town was flipped upside down as secrets, terror, and monsters broke free. That town was portrayed in one of Netflix's original series, "Stranger Things." This show can be characterized by mystery, adventure, investigation, and supernatural forces. The show recently released its second season and follows a group of friends and their families as they uncover the mystery of, and the challenges that come with, the disappearance of Will Byers.
"Stranger Things'" is a mix of science fiction and mystery that has attracted a diverse audience of over 36 million people. The series has redefined science fiction and took Netflix users by storm when the first season made its debut in July of 2016. Only growing since the release of the second season, "Stranger Things" has been trending on all social media platforms with its diverse content, and has inspired many parties, parodies, costumes, and graphic designs.
"It's a show full of comedy, action, suspension and even a little romance," junior Patricia Muniz said. "It's unpredictable and different. The show teaches you to be there for your friends at their worst. I think it's a show for everyone."
Season one follows a trio of young boys, Lucas, Dustin, and Mike, as they embark on an adventure to find their friend Will. They find that their friend is stuck in the Upside Down, which is a darker version of reality. On their adventure, they encounter a monster, known as the Demogorgon, while they also meet, Eleven, a young runaway with telepathic powers. Throughout the season, the friends attempt to save Will while also dealing with the negative effects the monster has created on their society. Season two of the show focuses on the supernatural forces that continue to create a gap in Hawkins. Contrasting to the first, the second season takes place almost a year after the events that happened in the first, which opens the plot for new monsters and characters to enter the town and create a buzz.
"It's fast paced and exciting, but it can also be really sweet at times," sophomore Courtney Roberts said. "It gets confusing sometimes, but everything makes sense by the end."
The show's incorporation of science fiction and 80s era look has appealed to people of all ages. Dungeons and Dragons, a fantasy board game released in the late 70s, is very prominent throughout the show, as the characters come face to face with pieces from the game. The choice of camera angles and costumes are similar to those that were used in 80s adventure movies, and the use of music from popular bands, like Toto, drag in viewers who enjoy the feel of the 80s.
"A lot of people look up to the vibe of the show," sophomore Oliver Lewis said. "The textures and the hair are inspired by the 80s style outfits and characters so it influences their personalities."
The featured young actors, Finn Wolfhard, Millie Bobby Brown, Gaten Matarazzo, and Caleb McLaughlin have become very popular thanks to all the buzz around the show. Their social media accounts have over two million followers, and they are constantly on late night television talking about their shows, in addition to participating in many advertisements and films.
"The 'Stranger Things' kids are really talented," freshman Alexandra Parker said. "The kids are really relatable since they are around the ages of many of their viewers. They go to school and they do things most kids do too, so it's really easy to enjoy a show I can relate to. I love it."

About the Contributors
Bridget Froemming, Multimedia Editor
Bridget Froemming is a senior and Multimedia Editor who is ecstatic to be contributing to The Brantley Banner for her second year. She is president of...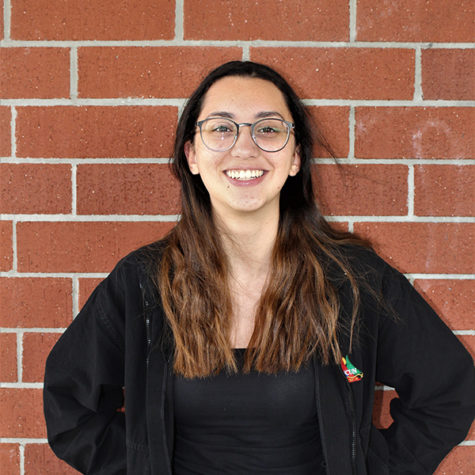 Sabrina Bonadio, Entertainment and Graphic Design Editor
Sabrina Bonadio is a junior and the Graphic Design and Entertainment Editor on the Brantley Banner staff. She loves writing and designing and hopes to...