Covid brought fashion
The 2020 global pandemic has, without question, sparked an excessive amount of stress and uncertainty. But if there is one positive outlook to COVID-19, it is the adaptation of turning mandatory mask-wearing into fashion statements and the popularizing of Blue Light Glasses.
After the mandate made earlier this year enforcing the wearing of masks in public places, many stores and businesses have been promoting fun and funky mask styles as more appealing alternatives to regular solid colors. Many people have also been taking these circumstances and  turning them into opportunities to create secure and trendy accessories.
"I am referenced to as a Florida girl by my family and some friends because I'm a native, so tropical or paradise things have become a big part of who I am," senior Melissa Sargent said.  "I like that I can express myself and match my outfits even though I may stand out. I have some plain masks but I mostly like the personalized ones although it may take longer to match some with an outfit."
Along with unique masks, COVID-19 has sparked a new rave in Blue Light Filtering Glasses, which are said to prevent eye strain and headaches from screens. This is especially beneficial for the Seminole Connect and FLVS students who spend hours on their computer doing schoolwork.
"I have always really really wanted glasses and I saw that [blue light glasses] was a trend on TikTok so I just said why not and I bought them," junior Laura Howell said. "I think I wear the glasses more often for fashion uses then I do for screen time just because I really like how I look in them." 
Teachers have also turned to their crafty side and are finding ways to express themselves through their masks to add personal touches. Rather than purchasing masks online and buying them in-stores, some are choosing to tailor their own.
"Sewing is something I really enjoy doing and so when the mask mandate came into effect it was pretty natural for me to create my own, especially because there are so many patterns available for free online," social studies teacher Leah Sims said. "I liked the idea of being safe in a sustainable way and the fact I can always match my outfit became a quick bonus! I think making my own masks has made wearing them much more comfortable and I do think they allow for added expression of my personality. I am looking forward to wearing my fall masks soon."
About the Writer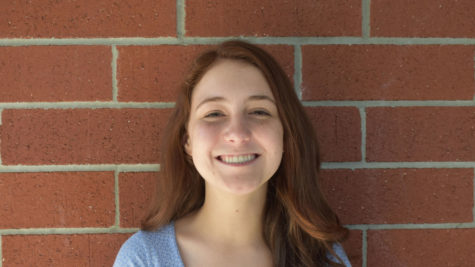 Brooke Holland, Features Editor
Junior Brooke Holland is a second year staff member and Features editor for The Brantley Banner. Outside of the newspaper room, Holland allocates her time...