The one act "Proof"
Troupe 2888 is back at it again performing a one-act titled "Proof". This one-act in particular, was split into two different casts, the Lake Brantley cast and the district cast. They split the casts due to COVID-19 and if one cast were to be tested positive, they would quarantine them and replace the district cast with the Brantley cast. Every year the troupe performs in front of a live audience but due to the virus, this must be recorded without a big audience for safety reasons.
This year's one-act, "Proof", written by David Auburn, is a story following the troubled 25 year old Catherine, played by Jenn Mason for the district cast and Leah Sommerio for the Brantley cast. Catherine faces an inner conflict due to her father's death. She questions whether she will inherit the mental illness her father, Robert, suffered from, who is played by Sean Perry and Jeremy Llorens.  Harold (Hal) Dobbs is portrayed by Nolan Phillips and Mason Gold. Hal is a  mathematician who comes to her house to look through Robert's old stuff. Catherine's sister Claire, played by Melissa Sargent and Kyra Martin, comes to visit her in hopes to move her out of the old house. Hal comes across a groundbreaking proof while looking through his stuff, but little are Claire and Hal aware of its true authorship.
Many of the cast and crew members had fun being in the production because of its uplifting environment and the resilience of everyone involved: no matter the challenge, they learned from their mistakes whether it was  forgetting lines to wrong cues they pursued. 
"It is so great to be surrounded by people that care so much about what they are doing and really passionate about," Stage Manager, junior Delaney Rosenblatt says. "Something specific I learned from "Proof'' was adapting to any challenges that comes your way." 
 The one-act took 29 days to pull together. Whether it was revising the script or building the set, the troupe got it done. The cast and crew put in all their effort working late and making time in their busy schedules. The one-act had to remain under 40 minutes and each cast worked their way to finish under the time limit.
"My favorite part of being in 'Proof' was just getting to have fun with a bunch of great actors,"  freshman Mason Gold said. "I think that I have improved on my face acting. My only regrets were that I missed a cue, and that there weren't more performances." Through trial and error with the several practices the cast managed to overcome their own personal obstacles.  
The production of "Proof" was not easy to pull off and many of the students coming in are recent to acting and behind the scenes action but they managed to show responsibility and their skills to the upperclassmen, in result of their hard work the show made it to state competition!
"I'm so proud of all the work on the show. Participating in the state one act festival is the pinnacle of success for high school thespian troops. The effort and teamwork shown by the cast was really inspiring to see," Director and theatre teacher Chase Cashion says.
"Proof" will hold a special place in the troupe's heart from everything they experienced during the runs and rehearsals, to the long lasting friendships they made along the way. "This has been such a fun experience for me, all of my friends are in this show, either as an actor or as a tech. I am so happy to be back and doing theatre," Rosenblatt said.
About the Writer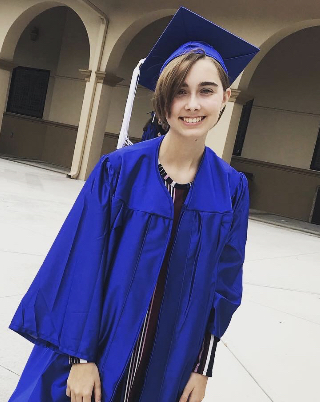 Ada Grieger, Staff Reporter
Freshman at lake Brantley, who loves to write and share stories. She volunteers at the Central Florida Zoo's Teen Team and loves to spread animal awareness...