Election chaos
At approximately 11:30 a.m. on Nov. 7, the Associated Press announced former Vice President Joe Biden would be the next president of the United States. The race was called after Biden was projected to win 284 electoral votes, exceeding the 270 votes that a candidate needs to win.
Both presidential candidates received a record number of popular votes. As of 3:30 pm. Dec. 3, Biden received around 81 million popular votes, while President Donald Trump received about 74 million. As of Dec. 3 all states have entered at least 98 percent of their votes, making the results mostly accurate. However, President Trump is refusing to concede, encouraging states to stop counting votes and suing states with claims of election fraud. He is also calling for a recount in key states with a close margin of votes. 
"Electoral votes go in on Dec. 14 and that's just projection from the first count," sophomore Jordan Burgos said. "We still have mandatory recounts to go through and now a lawsuit so I don't think too much of [Biden's victory] yet. If that lawsuit goes in favor of Trump he could turn things over by using the 12th Amendment so things could easily change just like that."
If the recount and lawsuit do not overturn anything, it will mark a lot of firsts, both for the candidates and in general. This would be the first time since 1992 that a sitting president has lost re-election. It would also be a momentous occasion for the now vice-president elect Kamala Harris. 
"I'm so proud to have a Vice President elect that is the first woman, and first Black VP elect, you also have to understand that she, like most other politicians are not perfect people," junior Delaney Rosenblatt said. "I understand and recognize her past actions and don't agree with them, but will still support her as VP."
Support for the main candidates range widely, from Biden's support for LGBTQ+ rights to the way Trump has helped citizens fill more jobs. Some chose to support different candidates because of beliefs about their party and disbelief in Trump and Biden.
"I supported Gloria La Riva, the Party for Socialism and Liberation candidate," junior Luke Witzman said. "I supported her because she represented my values of class equality and individual liberty."
One important issue voters had to consider this year was how each president would handle the future of COVID-19. Some people claim that being forced to wear a mask is against their fundamental rights set by the Constitution. However, others are more concerned with how many people are getting sick, and believe that a mask mandate would bring the numbers down.
"No matter how hard someone tries to change it, it doesn't mean every single person in the U.S. will listen to the mandates put in place," senior Shelby Gay said. "I do however believe Biden will put a firmer hand down on the change and take more action than Trump."
Two other important issues for Democrats during the campaign were international relations and climate change. Overall, they feel that Trump reversed the progress that the United States made in the past, and as an alternative are looking to Biden to fix that.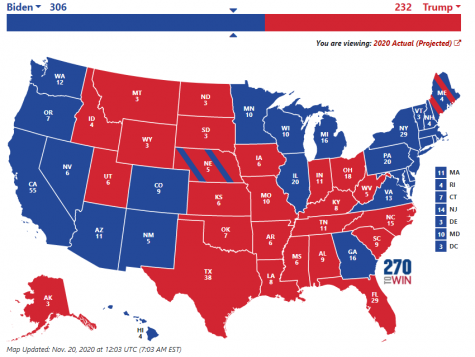 "I think our foreign policy will get better under Biden, like the Paris Climate Agreement," junior Josh Zeffren said. "I am a little worried about how he will handle the conflict in Israel and Palestine. I do support his environmental policies, like investing in clean energy to switch from oil to renewables."
Even though the switch from one party to another in the White House can be difficult, many students remain optimistic about what the next four years will bring for the country under a Biden-Harris administration.
"I'm really hopeful it won't be like the last four [years], where the rest of the world looks at us like a joke, which would cause for better international relations," Gay said. "I'm hopeful we can continue to grow as a country rather than be set apart by this new change."