Isabella Miguez: Spreading cheer one toy at a time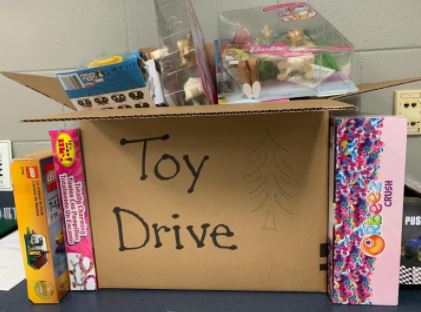 Around the holiday season, millions of kids with serious illnesses spend their holidays inside hospitals with expensive medical bills taking the place of gifts and presents. In the spirit of giving, toy drives can be found throughout the community, taking donations to bring to hospitals with children in need. Senior Isabella Miguez has taken charge in her own community this year and is running her own toy drive. The third annual "Help the Kids Toy Drive" works to donate toys to children of all ages who are battling cancer, from infants to 18 year olds. 
In the past three years that Miguez has been running the drive, she has been on the news stations Fox35 and Spectrum 13 to spread the word about the event she hosts. 
"Honestly, I just wanted to do something good," Miguez said. "I found out how many kids are diagnosed with cancer in just one year and I immediately wanted to do something to make it a little easier for them. I just wanted to make some kids smile who honestly go through the unimaginable the other 364 days of the year."
The process of organizing the drive is challenging, as Miguez must also promote the event to get a significant turnout. The drive is not just looking for donations from students and teachers, but also those in the area. 
"I create the flier and reach out to local businesses to see if they would be willing to put out a box for me," Miguez said. "This year, I talked to about 30 teachers to collect toys in their classrooms."
Aside from the planning, Miguez has to also take into consideration what type of toys are safe to take. Items such as soft toys and toy weapons could be dangerous for sick children.
"I look for anything that a kid would want while they're sitting in a hospital room enduring the unimaginable, something to keep them entertained and distracted," Miguez said. "I just can't give anything that's been used [or] out of packages and I can't give any stuffed animals. This is because the kids are immune-compromised so if we give them something that has a germ or bacteria, it can make them sicker."
Cleverly, Miguez was able to come up with another way to allow for more donations: After reaching out, multiple teachers agreed to offer extra credit to those who donate toys through their classes. 
"I had the blessing of working with Isabella in AP Seminar last year, and she coordinates the program," AP Capstone teacher Debbie Brownrigg said. "When a student puts so much heart and work into a project to benefit others, I always want to support that. I wanted students to be able to participate, and she asked that the extra credit be part of that."
Even with these benefits, sometimes donating comes out from the hearts of those who want to donate for a good cause. 
"Everyone hits lows, and donating to the toy drive helps me to know that it's gonna go out to someone who is at a low right now," junior Caleb Cuevas said. "I feel really bad for those children in the hospital right now."
The drive ran until Dec. 13, and Miguez's efforts are sure to raise spirits this season. 
"I am so thankful for Isabella's efforts," Brownrigg said. "I know so many children will benefit from her kindness and the kind efforts of our students."