National Suicide Prevention Month
While October overflows with pink ribbons and breast cancer awareness pins, the yellow-ribboned month of Sept. is designated to spreading awareness of mental health disorders and preventing the suffering that often comes along with them. The 30 days of National Suicide Prevention and Awareness Month (NSPM) carries a motivating and potentially life-saving message that suicide is preventable.
Over the past 20 years, suicide has become more widely discussed and relevant issue as rates have escalated to extreme numbers. According to save.org, suicide is not only the tenth leading cause of death in the U.S. but approximately 123 people of all ages and genders die as a result of suicide every day, making that almost 45,000 lives taken each year. To combat this,  programs and foundations across the globe have been working to raise awareness of the significance of this problem for 44 years. One of these programs on campus is New Horizons, which planted its roots on campus eight years ago, with the hope of spreading positive messages to students.
"Both Ms. Ide and I, we are mental health counselors," New Horizon Counselor Maggie Powers said. "We work for an outside company and we come into the school and we help students with things like anxiety, depression, substances if that's happening, anger management, behavioral problems, family problems, a lot of different things."
The New Horizons program, located in the Building 7 office, is accessible to all students during the day. Whether someone is having an anxiety attack during class, or just needs someone to talk to, the counselors are always ready and willing to offer support and help to any student who is struggling with their mental health. 
"I think a lot of times when, especially students your age, go through things, they might feel like they are alone," Powers said. "My goal and Ms. Ides' goal and New Horizons' is to make every student who needs it feel like they're not alone and every student to feel like they have a place on campus that they can come if they need support."
One of New Horizons' objectives is to provide students with an additional support system beyond family and friends. Not only do students receive direction and guidance from counselors but they also support and uplifting one another during NSPM by sharing their thoughts and empathy.
"This month is especially important because it's when more people are paying attention or are alert to learning about suicide prevention and how to help those who may be at risk," senior Alicia Steffy said. "I like sharing ways to help and being an open door for others because I feel like it gives support to those we may not know are suffering/haven't reached out for help."
About the Contributor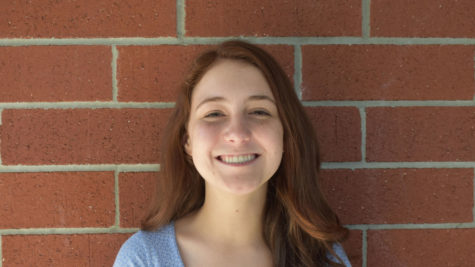 Brooke Holland, Features Editor
Junior Brooke Holland is a second year staff member and Features editor for The Brantley Banner. Outside of the newspaper room, Holland allocates her time...