Katie Turkelson wins Teacher of the Year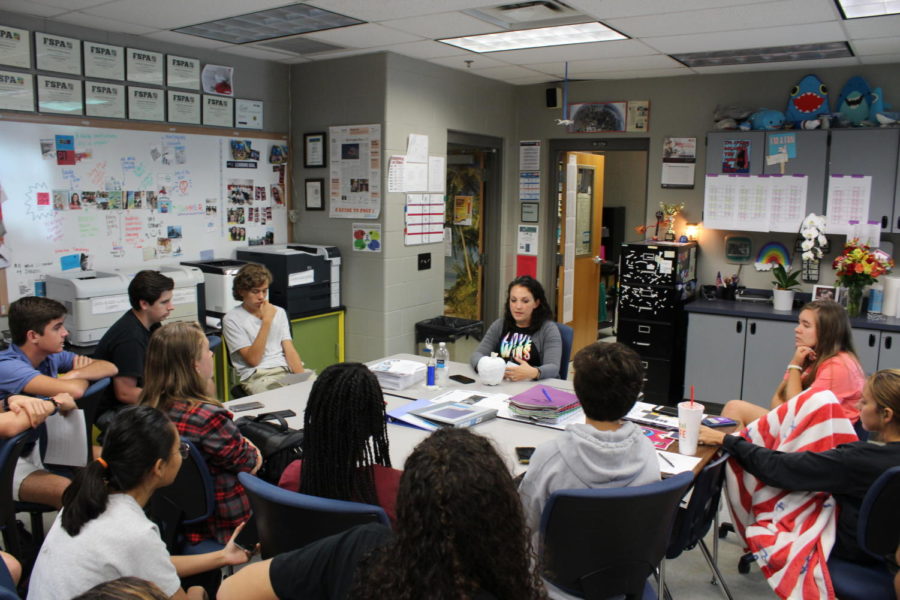 "Do not smile until December," Teacher of the Year Katie Turkelson heard this echoed through her training sessions over seven years ago. The phrase is meant to instill an ability to command respect and discipline in future educators. As students step into Turkelson's classroom, a scrapbook worth of photos are taped around the room, graphic design student's projects are hung haphazardly and a basket full of blankets is tucked away near her desk all while early 2000s pop music pulses. As for Turkelson herself, she owns a hoodie meant to look like a shark and typically wears graphic t-shirts. On the day she found out she was the Lake Brantley's Teacher of the Year she wore a shirt that read: "America needs Teachers," and donned a smile that did not wait until December.
Turkelson has worn many hats, majoring in journalism and discovering she was disinterested in the cutthroat world of media. She then began working at  Walt Disney World, then a bank and eventually became a substitute teacher. Her mother has worked in education since she was in grade school, though it was a year long sailing trip with her father that pushed her to pursue teaching. Since then, she has taught English, DIT and, 18 weeks of chemistry. She now serves as the newspaper and yearbook advisor, along with teaching journalism and digital design.
"My mom told me if you can sub and you can run a classroom with classroom management as a substitute, you can teach anything, and that was 100 percent true," Turkelson said, "I think that establishing respect at the beginning of when a student walks into my classroom is the most important thing. 
Choosing a Teacher of the Year is a voting process involving all faculty. First, a teacher must be nominated by a peer. Those nominations are then narrowed down and voted on by staff members. WinningTeacher of the Year for the school means receiving a slew of recommendation letters and writing five personal essays to send to  the Office of Community Involvement for Seminole County Public Schools. The county finalist then goes on to compete at a state level. All of this includes a letter from principal Brian Blasewitz. 
"As an employee, Mrs. Turkelson is one of the most helpful, articulate, positive and reliable employees I have ever had the chance to work with in my career," Blasewitz said."She exemplifies everything you would want from your Teacher of the Year."
Many students have had Turkelson all four years of high school, including senior Emily Klingenberg. Klingenberg took Journalism Ⅰ her freshman year, joined newspaper in her sophomore year, and then was on both newspaper and yearbook as a junior. Now, she is Editor-in-Chief of yearbook. A constant in her high school experience has been Turkelson.
"I like being able to go to her with anything and know that I trust her, her judgment is always in my best interest," Klingenberg said."Mrs. Turkelson seems like she is a different breed of teacher, she really tries to inspire her students, but at the same time, just make sure they know that they have to be hard workers and get the job done."
Turkelson herself is quick to point out that receiving Teacher of the Year is a professional validation that she did not deliberately seek out. After seven years of teaching under her belt, the most deliberate choices she has made as a teacher has been the environment she creates in her classroom. A file cabinet full of snacks, a shrine of sharks and swivel chairs occupy her room. Her work in piling up seven years worth of experiences and decorations, has not gone unnoticed. 
"I have learned the importance of having a place to come when you need to just step away," Turkelson said. "It is important to have a space where students can feel safe. Regardless of what they're going through; good days, bad days, things like that."
About the Contributors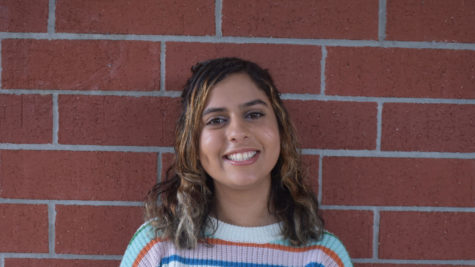 Aurora Jimenez Castro, Entertainment Editor
Aurora Jimenez Castro has been on The Brantley Banner staff since 2018 and is the Senior Entertainment Editor. Her love for art began when she was a young...
Anna Wesley, Photo Editor
Anna Wesley is a Senior at Lake Brantley High School, who is currently a third year staff member on the Brantley Banner. Anna will be spending her third...