Over 100 days of protests
On May 25, George Floyd, a 46 year old black man, died during an encounter with Minneapolis police. Floyd's passing, as well as an onslaught of police involved deaths across the nation, summoned a renewal in Black Lives Matter protests. Lasting over 100 days, these protests have generated an international conversation on police brutality. 
The Black Lives Matter Foundation was founded in 2013, in response to the acquittal of George Zimmerman, the man who controversially shot and killed Trayvon Martin. Following their mission to fight white supremacy and intervene on violence inflicted on the black community, it is a global organization located in the U.S, U.K, and Canada. Shortly after its founding, Black Lives Matter became a hashtag used by activists seeking to bring awareness to ongoing police brutality. The movement has created a discourse on what is and is not an excessive use of force, as well as what the appropriate form of investigation should be.
"In fulfilling our police functions, officers will only respond to resistance at a level necessary to accomplish their lawful objectives in accordance with Florida law," Altamonte Springs' Public Information Officer, Michelle Sosa said. "Our philosophy is based on respect for all. Officers are required to continually evaluate interactions and only use the lowest level of response necessary to control the situation. In the unfortunate event of a police shooting, our policy requires an independent, thorough investigation from an outside agency, the Florida Department of Law Enforcement."
Black Lives Matter has recently been called out for sanctioning misogynistic and homophobic ideals. They have been under great scrutiny for ignoring certain sects of the black community. It is believed that black men garner national, or at least local attention after an incident with a police officer, while black women and members of the LGBTQ+ community are disregarded.
"The Black Lives Matter movement has been very influential on the correcting of injustices against black men, however, that's just it," senior Malachi Page said. "Black Lives Matter takes very little care to widely address murders of black women, black trans women, and black queer people in general. While black people are minorities, Black Lives Matter still prides itself on misogynistic ideals and holds very homophobic and transphobic undertones by only focusing on the tragedies that fall upon straight black men." 
Recent Black Lives Matter protests have also faced stark criticisms for violent outbreaks and supposed rioting. The looting that took place shortly after George Floyd's death alienated some Americans from the movement and created a division on the perception of Black Lives Matter as a whole.
"I support the phrase 'black lives matter,'" senior Veronica Vera said. "They do, they matter just as much as anybody's lives. However, the Black Lives Matter movement has gone beyond exploiting prejudice and has caused a disruption in America. I believe it is causing the phrase to lose credibility and creating more marginalization. I think it's time to stop the victim mentality and spark action and reform with real foundations so that it is more respected by all people."
Social tensions between African Americans and police officers continue to rise. One of the main issues is that black Americans do not feel safe when they have encounters with the police. Many African Americans are forced to plan on how they would handle a police encounter, due to fear that an officer will overreact to any action they take, regardless of how minor it may be.
"In my mind I'd want to say I'd call them out on how their whole career is built on systemic racism and systematic oppression, but in actuality I'd freeze up and try to comply as best as I could," Page said.
This is the sad reality for many people of color in America. They are often forced to rely on recordings to ensure that if they do lose their life, the police will be held accountable. 
 "If someone was with me, I'd make sure they were filming the whole time," Paige continued. "More likely than not, the cop I would be dealing with would already have a violent response in the back of his mind because I am a black male. In the event I face police brutality and end up hurt or killed, I'd want to make sure my story would be told."
About the Contributor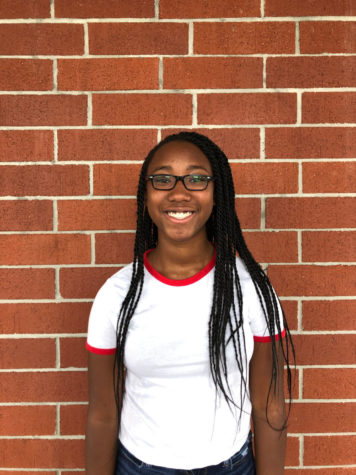 Shelby Brunson, Editor-in-Chief
Shelby Brunson is the Editor-in-Chief on staff. She is the youngest in her family, with one twenty four year old sister, and one twenty six year old brother....