Ike Schiller: Student Body President
Isaac "Ike" Schiller is the school's Student Body President and has been in leadership for three years. His time in student government has allowed him to accomplish many of his goals, further interact with the student body and staff, and taught him necessary skills he will carry with him throughout his life. 
He began his leadership journey freshman year, running for and winning class president of the 2021 graduating class. His positions have since included Sophomore Class Historian, Student Body Historian and his current position as Student Body President. Each position entailed a different experience for Schiller, and each offered new challenges and learning opportunities. 
"My favorite position has been Student Body President," Schiller said. "My experiences definitely changed throughout my positions, but they all gave me the insight of furthering my leadership abilities and growing new skill sets, not only in my positions but as a person."
His position has paved the way for his involvement in leadership activities expanding beyond the school. Due to Superintendent Walt Griffin's upcoming retirement, Schiller has been chosen as the only student on the board to choose his replacement. He also hosts the monthly county meetings, which consists of eight other high school Student Government Associations, along with attending Florida Association of Student Council conventions for the past two years. 
"Every day is a great day with Ike," Audra Greuel said "But my favorite experience is each year when we attend the state leadership conference!"
Ike's involvement in leadership has furthered the program for future and current SGA members. His new and more interactive ideas, along with his hard work and dedication, has helped the program reach many new accomplishments. From crafting homecoming week ideas, leading SGA meetings and creating a new system of recognizing various students each month for their achievements, his responsibilities range wide, but his commitment to change, and inclusivity leads him in his responsibilities. 
"Working with Ike is amazing," senior Tess Trimble said. "I have never met someone so passionate about student government as he is. He puts in so much time and effort into the position of Student Body president. He's willing to listen to everyone and is so hardworking. I don't think anyone realizes how much Ike has helped our school." 
Although new challenges have arisen due to COVID-19, he has found ways to adapt to these changes. He has had to find new and creative ways to keep school spirit alive and carry out his responsibilities. Many different activities have been switched to virtual alternatives, he has utilized social media more than ever to reach out to all students, and has created ways for at home students to be involved in the ongoing school activities as well. 
"The COVID-19 Pandemic has affected my position in many ways from moving meetings to virtual meetings and limited events being considered on campus," he said "However, the pandemic has opened my eyes to many different things that made me realize how grateful I am to still use my position to be as creative as possible to become a visionary at LBHS." 
Ike's impact on the school and his peers will remain, as he continues his strive for inclusivity and works hard to spread Patriot Pride. His hard work and improvements to not only the leadership program, but the whole school will last for years to come. 
"Ike has brought new passion to leadership," Audra Greuel said. "He is spirited and driven to make the Patriot community better."
About the Writer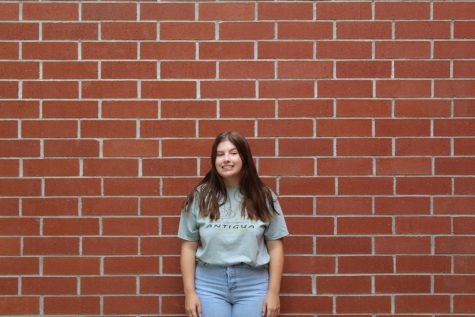 Erin Huguenin
Erin Huguenin is a senior at Lake Brantley and a first year staff reporter. She enjoys politics and hopes to pursue a career in that. She also likes watching...