Insidious: The Last Key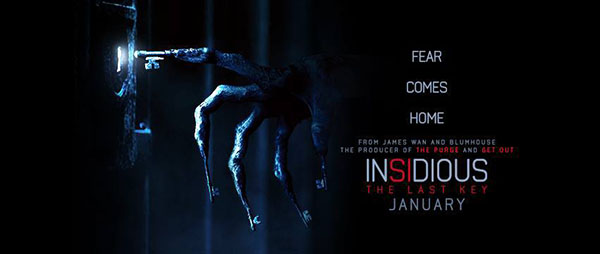 Hang on for a minute...we're trying to find some more stories you might like.
I have yet to find a movie in the "Insidious" series that lives up to my expectations. The newest "Insidious" movie, "Insidious: The Last Key," directed by Adam Robitel, follows a psychic, Elise Rainier (Lin Shaye). Shaye is summoned to investigate her haunted childhood house that has been possessed by more than the supernatural. When she arrives, she is not only overwhelmed with bad memories, but also with the new terrors that ensue.
The plot in this movie was not predictable, but the way it was drawn out was not interesting. There was a very low scare factor in this film, I was only ever scared once. The use of humor was definitely a failed attempt as I found myself rolling my eyes at jokes that were written in at the worst possible times.
Putting aside the lack of thoughtful plot and horrible humor, the acting in this film was phenomenal. Aged Rainier (Lin Shaye) was great at conveying her emotion throughout the film, and young Rainier (Ava Kolker) was even better with her realistic portrayal of emotions.
The sets in this film were outstanding and eerie, which went along with the movie. The detail used in the movie created visually pleasing scenes. The costumes were basic, but were true to the time period. However, it seemed like there was a lack of attention in the department of hair and makeup. In one scene, young Rainier's hair was tightly curled but moments later it was completely straight, causing a distraction to the plot.
Jason Blum, the CEO and founder of the Blumhouse production company, has produced many films that I have loved, yet this one left me unsatisfied with the overall series. I would recommend "Insidious: The Last Key" to anyone who is looking for a creepy film, not one that actually scares and leaves one on the edge of their seats.

About the Writer
Bridget Froemming, Multimedia Editor
Bridget Froemming is a senior and Multimedia Editor who is ecstatic to be contributing to The Brantley Banner for her second year. She is president of...