Camp Wewa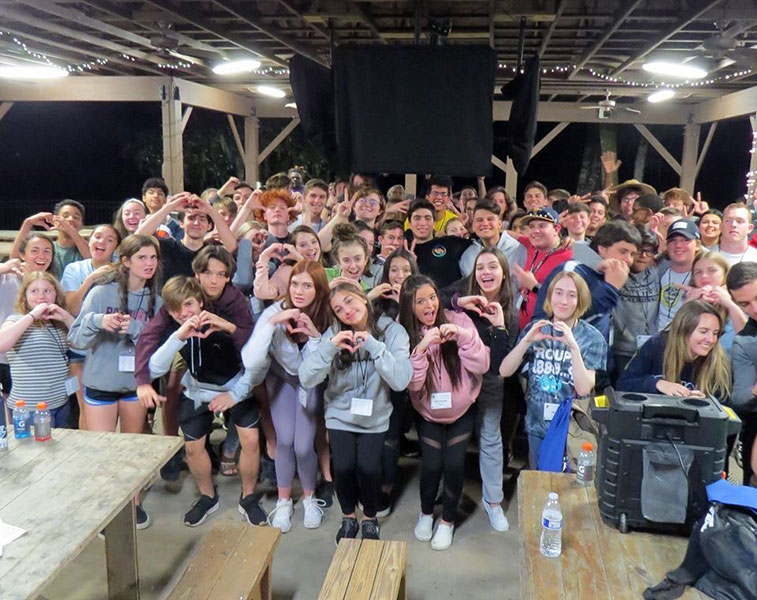 Camryn Hoyt, Journalism 1 Reporter
March 9, 2020
YMCA Camp Wewa, a place to meet new people, try new things and even get closer with one another. A group of students at Lake Brantley had the chance to experience it over a weekend on Jan. 17-19. Students were asked by English teacher Peggy Leis, or invited by friends to gather together and enjoy a great weekend.
"Getting ready for camp I was a little nervous," sophomore Kendyl Vigie said. "I wasn't sure how many of my friends were going to the camp and I really didn't know what to expect."
As students prepared for Camp Wewa there were many different feelings for each camper. Some were unsure how they would like it, however, once they got there it was a completely different story.
"It was different from other camps because we were grouped with 'families' of people that you didn't know," sophomore Kendyl Vigie said. "So you could meet people that you wouldn't have if you were grouped with all your friends."
As the weekend continued they made new friends, challenged their beliefs and perspectives of others. Students experienced different participation in activities with others such as arts and crafts, canoeing, rock climbing and much more. Engaging in these activities allowed students to expose themselves to new opportunities with others.
"It felt good to be there and be able to talk to those people," freshman Chris Gillon said. "It was a little weird at first but once I got to know them it was fine."
YMCA Camp Wewa has many different occasions that students can attend to experience these things like, team activities, building relationships and learning many new things that everyone enjoyed. Team bonding activities really gave the students a chance to connect and it gave them opportunities to talk about relatable things with each other.
"We talked a lot about stress management which I think is something great to discuss with high school students because it's a common problem for most with exams, grades, and prep for college," Vigie said.
Camp Wewa led students out of their comfort zones and gave them the option to open up. Leis also made impacts on the students lives introducing them to Camp Wewa and all it provided for them.
"I would go again because it was a nice way to get away from all the stress of school and extracurricular," Vigie said. "No one ever used their phones so everyone had the chance to hang out and have fun without distractions."