Brantley Students kick-start an Arts Career with the Dr. Phillips Center
Hang on for a minute...we're trying to find some more stories you might like.
The Dr. Phillips Center for Performing Arts is a cultural hub in Orlando. The performing arts center houses many productions, hosts camps, and holds events for students and donors alike. One program is curated for high school students interested in performing arts. The Teen Ambassador program pulls students from various Central Florida counties who fill out an application. Requirements include a 3.0 GPA, at least 10 volunteer hours throughout the school year and at least one social media account. For these students, this opportunity is a chance to immerse themselves into the professional world of fine arts a career they would like to pursue one way or another.
This year seniors Bridget Froemming, Fernando Garcia, and Junior Erin Yoffee were chosen. For Fromemming, president of the drama department, being a part of the ambassador program opens a door into the professional world as she prepares to graduate.
"This Ambassador role will prepare me for the future by allowing me to make connections with people who are already working in the industry I'm going into,"  Froemming said "Being a part of this department has been the most important aspect of my high school career, and I hope nothing more to leave a legacy here. It'll be very sad and bittersweet to leave, but I hope I make enough impact on the department to inspire others."
Email lists and monthly meetings are on the itinerary for students selected into the program. These responsibilities also come with perks. Like show viewings and being surrounded by like-minded arts students.  
"Teen Ambassadors are learning under professionals working at and brought in by the Dr. Phillips Center," Yoffee said, "We also are volunteering at events throughout the year and attending shows throughout the season."
For all of the students, the Drama department has prepared them more than anything for the role of Teen Ambassador. The years of putting on productions and going to showcase has strengthened their want for a future in the industry.
"I think Brantley's theater has prepared me for this role because I've experienced each aspect of theater for the most part to some extent," Garcia said,. "But I'm doing this program to expand on that."
The Teen Ambassador Program at the Dr. Phillips Center is not only a stepping stone for each of these students futures into the professional world of theatre, the program is also an exciting opportunity to make friends and become more known in the professional sphere.
"I would tell future prospective students to volunteer outside of their theater department, because it'll show that they have a true passion for the arts," Froemming said. "Anyone, no matter their grade level actually, can apply for an Ambassador position as long as they are between the age of 14 and 18 in general, I would just encourage everyone to apply because it'll get their name out there."
About the Contributors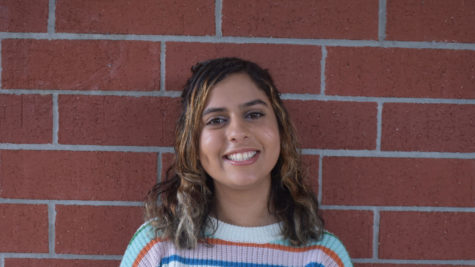 Aurora Jimenez Castro, Entertainment Editor
Aurora Jimenez Castro has been on The Brantley Banner staff since 2018 and is the Senior Entertainment Editor. Her love for art began when she was a young...