Annie Hall
Hang on for a minute...we're trying to find some more stories you might like.
One of Brantley's newest teachers is, Annie Hall, a young, lively, dedicated, and inspiring teacher. She is a first year teacher, and is ready to lead her students to success.  Hall is currently a teacher for the ninth grade English classes.
Hall's classroom is filled with vibrant colors, quotes and intrigued students. Growing up, she was a competitive swimmer, and eventually taught swim lessons.During these years, she found a passion and love for teaching. She is from a family of teachers, and father was also an english teacher. While Hall has never taught before, she is relying on her inspiration and past experiences to guide her through this year.
"I coached swimming growing up, and all the parents told me I needed to be a teacher," Hall said. "I would say my biggest inspiration was my dad. Along with my dad I received inspiration from all my teachers I had growing up."
Outside of teaching, Hall is a passionate Harry Potter fan. She displays many Harry Potter quotes around her classroom, Her favorite quote is,"Words are a most inexhaustible form of magic." Her passion for literature and writing continues to propel her to become a  successful English teacher. She strives to go beyond the average classroom curriculum, by engaging  all her students.
"I think the best part about Ms. Hall is she's very organized," freshmen Erin Huguenin said. "She is also very hands on while teaching, which proves how interested she is in the subject we're learning."
Students have the option to stay in Hall's classroom during second lunch to simply get ahead on the classwork or to receive extra help. Hall utilizes technology in her classroom by incorporating laptops into the daily lesson. Whether the assignments are on paper or on the computer, she hopes the students will continue to improve in the classroom.
"I want them to gain a respect, appreciation and understanding for literature," Hall said. "I also want my students to be better people, which is why I constantly talk about respect in my class.  I also hope they can take things from our stories to give them perspective."

About the Contributor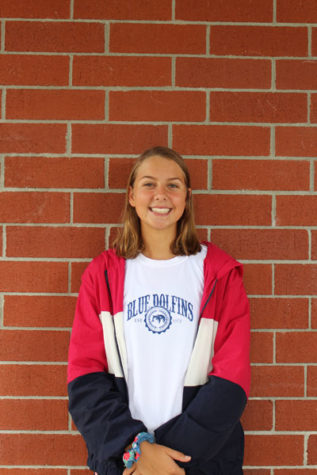 Madison Harris, Business Manager
Madison Harris is a Junior and second year staff member. Madison is the Business Manager and one of the multi-media editors for the 2018-2019 school year. Madison has a passion for writing, helping others and laughing very obnoxiously. Some clubs Madison is involved in are, Fellowship of Christian Athletes, the anthem club, Business Professionals of America...