Vaping: just a trend or a dangerous addiction?
With flavors like mango and pink lemonade, e-cigarettes have attracted teenagers for years, causing concern from their doctors and parents alike. However, in more recent months, that concern has grown, as young vapers experienced severe lung diseases with side effects such as shortness of breath, vomiting and fatigue. 
With at least six deaths and 300 cases of illnesses directly linked to Juul and e-cigarettes, New Jersey and San Francisco have completely banned the sale of these products, while Michigan and New York state have both banned flavored e-cigarettes and Massachusetts has declared a public health emergency with plans for a temporary ban on vaping products. Additionally, the Trump Administration announced plans to ban flavored vaping products nationwide, in an attempt to limit youth vaping. In response to the bans and health issues, Kevin Burns, the former CEO of Juul left the company, and the company suspended all advertising efforts in the United States.
"In terms of bans, I don't really think that's something they should do," senior Jasmine Jones said. "As much as vaping is bad for you, it's still a choice. Regulations, though, I support. Being a certain age, maybe 21, would help; it'd at least hold some kids from buying vapes for a couple years." 
A friend of Jones was diagnosed with a vaping related illness, like many other young e-cigarette users. Though the chemical causes are not determined, studies by the New York Department of Health linked cases of illnesses to a high level of vitamin E acetate found in illicit vaping liquids, especially liquids containing THC, the chemical in marijuana that induces a high. According to Mayo Clinic, an over intake of vitamin E can cause stroke or heart attacks, with concern that it can increase the risk of certain types of cancer.
"Vitamin E is not necessarily meant to be inhaled," Anatomy teacher Jill Lannan said. "Plus, it's a different substance, even though some of those don't contain nicotine, it's still causing some of that stuff. But you can add anything to it [vaping liquid]. You can add nicotine, opioids, THC, whatever you want to. You think about how some people have problems with chalk dust, candles or perfumes. Some people with the flavorings and the smells are getting respiratory distress from that." 
While traditional smoking rates have declined in recent years, the use of e-cigarettes has increased exponentially among all age groups. Most notably, however, the use of e-cigarettes nearly doubled among high schoolers, from 1.5 percent to 20.8 percent of high schools having vaped in the past 30 days, while rates of the use of other tobacco products stayed relatively steady, according to the Centers for Disease Control and Prevention. Little research has been done on the growing craze, but studies have shown that the illnesses are a new phenomenon, rather than just underlying diseases finally causing symptoms. 
"
You're still developing, so it [nicotine] can affect all the developmental, and some of the tissues like lung tissue are thin, they scar, they don't repair well"
— Jill Lannan
"You're still developing, so it [nicotine] can affect all the developmental, and some of the tissues like lung tissue are thin, they scar, they don't repair well," Lannan said. "[Flavored vaping liquid] that specifically targets young people. And once again, vaping was to be a reduction in smoking, not 'Hey, here's something to try and do instead of smoking.' When they talk about certain things being physically addictive versus psychologically addictive, there's still that pattern of behavior. So from smoking, they came up with patches and gum, and then they went to e-cigarettes, which will actually look like a cigarette."
E-cigarettes were originally developed to help habitual smokers satisfy their cravings in a less detrimental way. However, with the uptick in popularity of brands like Juul with flavored vaping liquid, younger people have been pulled into the world of nicotine and drug addictions, disregarding the intended purpose. Additionally, many individuals purchase illicitly created vaping liquid, which may include unknown chemicals that cause health issues.
"You'd think if you were going to put something into your body on such a frequent basis, you'd look into it to make sure it wasn't horrible for you," Jones said. "Just be cautious, honestly. I'm not going to tell anybody how to live their life, but just be careful with what you do."
About the Contributor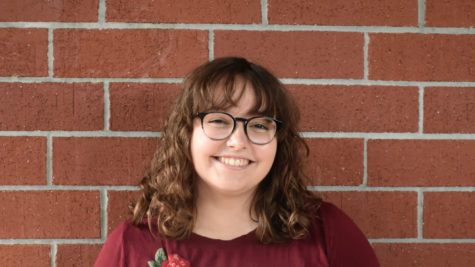 Cara Roth, News Editor
Senior Cara Roth is a third-year staff member and News Editor of the Brantley Banner Newspaper. Cara has a strong passion for journalism and plans to major...